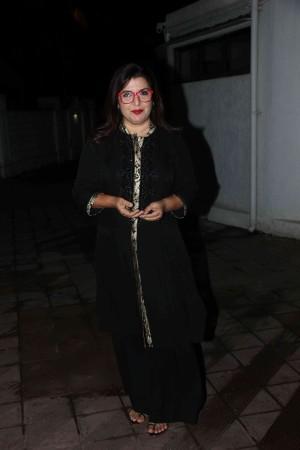 After Saroj Khan lashed out at "Happy New Year" director Farah Khan for pulling off a spoof on her, the latter responded saying it wasn't done on her.
"I love Sarojji. I have only learnt from her. She's an iconic figure. The character in 'HAPPY NEW YEAR' was not based on her. If she thinks it was based on her, it's only because we love her from the bottom of our hearts," Glamsham quoted the director.
While Farah only has respect and love to give to her senior, Saroj seems to have taken things very personally. The two choreographers have been at loggerheads ever since Aamir Khan's "Pehla Nasha" from "Jo Jeeta Wohi Sikandar". According to reports, the senior dance master, due to professional commitments, was unable to give time to Mansoor Khan's film and that's when Farah stepped in.
"But Farah and her brother distorted the facts to claim that I had been sacked from the film. When I told Mansoor this. he called up Sajid and Farah in front of me to confront them. I didn't have dates, so Mansoor got Farah. That's the truth. Iss baat ko un logon ne kahan tak pahunchaya hai," DNA quoted Saroj.
Apart from the funny act in the film, she is apparently miffed with the dig taken at her on popular TV show "Comedy Nights With Kapil". Kiku Sharda, who posed as the dance master in a wig and prosthetic hips, made the choreographer extremely angry. As a result of which she demanded an apology from the director and reportedly said that host Kapil Sharma shouldn't have supported it.
"Now, she is no longer a choreographer. She is a director. I've never gone to her for work. Then why do I matter so much to her? Just to stay in the news? I am no more in the limelight. I am out of the film industry now. My focus is on teaching dancing to children. I am busy with that," Saroj added.