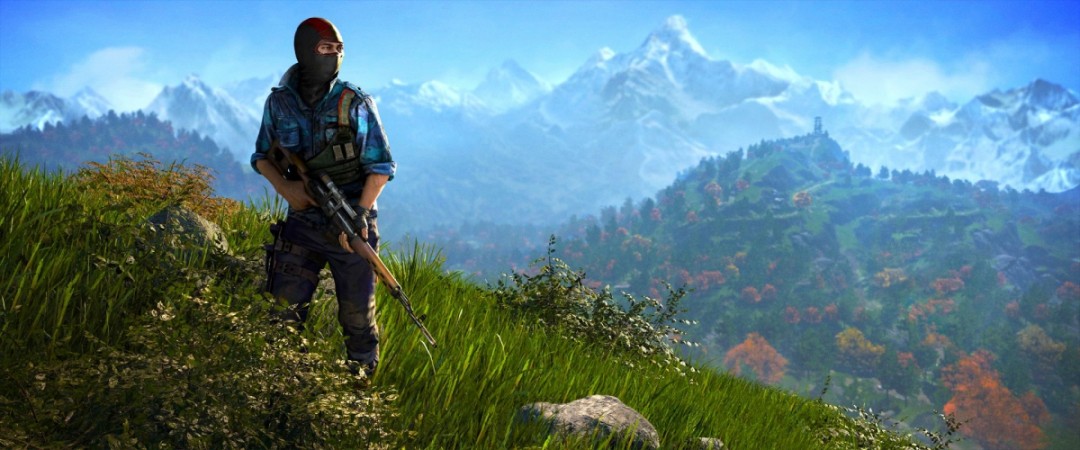 Ubisoft has released a new trailer that unravels the deep mythological past of Kyrat, the fictional Himalayan kingdom which features in the upcoming FPS title Far Cry 4.
The serene Himalayan kingdom, which has various wild animals like rhinos, tigers, snow leopards, yaks, elephants and more, has been transformed into a land of bloodshed by its tyrant lord Pagan Min, who has left the people divided as the civil war rages. The game will give you bows and arrows, guns and explosive devices in order to fight the enemies.
The Himalayas are dangerous and hold numerous secrets. Players will have to face avalanches, and so the wingsuit will come in very handy. Players must also be careful not to be mauled by a snow leopards, rhinos or other wild animals.
One of the most important big reveals in the trailer is that the players will be able to go to the mythological depths of Kyrat, a place known as Shangri-La. Players will be able to jump into the spiritual world and fight alongside a mythical tiger. Here our battle is against the evil forces which threatened the existence of this beautiful place.
"Players will discover the legend of Shangri-La through five poems, or chapters scattered throughout the world of Kyrat, " reported Game Rant in its preview.
"When players uncover one of these markers, they will being to meditate, and step into the legend themselves. As an ancient Kyrat warrior sent by his king to discover the mountain paradise, the player soon finds the utopia invaded by dark forces. With the paradise's feline protector at their side, the cleansing begins."
GameSpot speaks about using yaks and snow leopards in the game to help defeat some enemies.
Far Cry 4 allows players to carry food to be used as bait. Going close to the yak will make this majestic animal to charge at you, while the snow leopard is attracted to the smell of meat. So players will be able to use these weapons in their attacks on enemy positions. Meat can be thrown near enemy positions, attracting the white cat and leading to the panic at enemy camp. Players can also taunt the yaks to attack and then run towards enemy gates.
Far Cry 4 is all set to be released on 18 November 2014 for PC, PlayStation 3, PlayStation 4, Xbox 360 and Xbox One.
(YouTube courtesy: farcrygame)