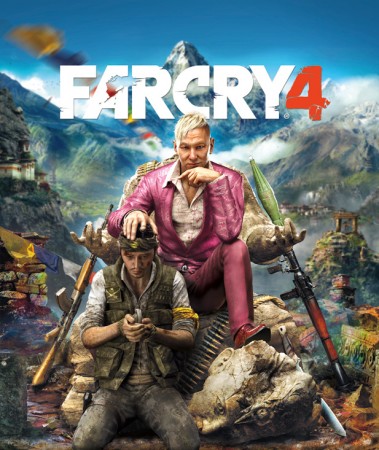 Ubisoft's announcement that it will continue its Far Cry franchise by rolling out a new FPS game, Far Cry 4 in November has not made its fans more curious as its setting was revealed to be in the Himalayas, moving away from the tropical island setting that was seen in Far Cry 3.
This new setting that was revealed on 15 May, will be in the fictional Kyrat region in the Himalayas. "Pack away your tropical gear, because Far Cry 4 is heading to the Himalayas," said Ubisoft in its official blog
The region of Kyrat has been described as an 'untamed region' that has a tyrant as its king. The region though known for its beauty is equally dangerous. The company also warns that the game will be filled with 'wildlife.' (Far Cry 4 will Release in November; Reveals Himalayan Setting)
So now the question goes as to what wild animals the player will have to fight with. In Far Cry 3, players had to fight or shoot Tigers, Deers. Other wild animals included Leopards, Black Panther, Bears, Boars, Tapirs. The game also had Sharks, Crocodiles. The game allowed the player to use the animals for Crafting and the skin of these animals could be sold for money.
Far Cry 4 will as in Far Cry 3 provide players with hunting and crafting system and mechanics probably similar to its predecessor.
Videogamer has posted a video on the possible games that might be part of the game:
Snow Leopard
Golden Jackal
Marmot
Red Fox
Tiger
Wolf
Otter
Bear – Blue and Brown Bear
Golden Eagle
So apart from the above list, Far Cry 4 will have Elephants, this has been previously confirmed by Ubisoft.
Apart from this, the game will also see the mysterious Yeti, a Snowman which might be a rarity in the game, but might wreck enough damage. Other animals that are commonly found in the region that might also be part of the video game are Himalayan Yak, the Himalayan Tahr (a goat like animal). Deers, Crocodiles, Tibetan Sheep and Mountain Dogs might also be included.
Far Cry 4 will be rolling out on 18 November for PC, PlayStation 4, Xbox One, PlayStation 3 and Xbox 360. The video footage of the game will be revealed at the Ubisoft press briefing at E3 2014.