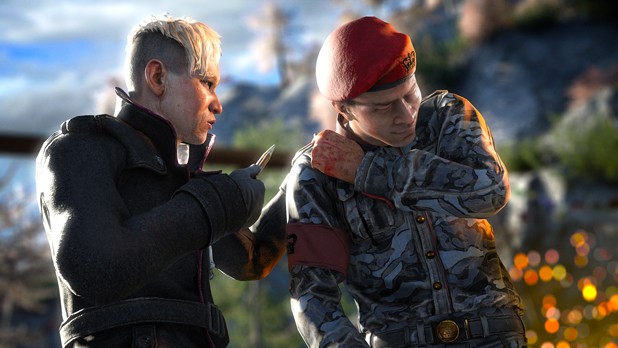 Far Cry 4 is the latest title from Ubisoft that will transport players to a Himalayan setting for the fictional country of Kyrat. Players will be controlling a new character of Ajay Ghale who had come to scatter the ashes of his mother, but eventually gets embroiled in the internal war of the country.
Kyrat has fallen into the hands of a violent and despotic person, Pagan Min, who wears a pink suit and kills his own soldiers for some reason.
Fans have been wondering why the despotic villain of Far Cry 4 wears the pink suit. This was answered by Dan Hay, executive producer in a new video that has emerged from the E3 2014. If you were thinking it was a style statement from Min, then you are totally wrong.
"Pagan Min wears that suit as homage to his mom. So when you're making fun of the suit, you're making fun of his mom. And I would not make fun of Pagan Min's mom," he said.
He further goes on to reveal the relation between Pagan Min and Ajay Ghale. He says that the protagonist has returned to that place for his personal reasons, but his last name, 'Ghale' has lots of meaning in the game. It is an important last name in the game and in Kyrat. People will recognize you wherever you go.
Also in the video we can see that players can ride the elephants and use them for attacking opponents.
Hay further adds that a team was sent to the Himalayas to help the development team with the ideas. The reason for the good quality of work is because of fidelity, iteration and talent, he said. He also confirmed that players will be able to explore the place jumping from the cliff of a mountain without time running out on them.
Far Cry 4 is scheduled to release on 18 November 2014 for PC, PlayStation 3, PlayStation 4, Xbox One and Xbox 360.
(YouTube Courtesy: Ubisoft)
Seven Interesting Features in the Game
1. Pagan Min, the despot
2. Ajay Ghale using interesting weapons and wingsuit
3. Vehicles - Tuk Tuks, cars, Buzzer (a chunky helicopter)
4. Location - Kyrat in Himalayas
5. Multiplayer
6. Expansions - will it be neon wars like Blood Dragon?
7. Elephants - They can be used in various purposes. Ride them, use them as suicide bombers, bathe them and more.
(Source: Telegraph UK)
Far Cry 4 Kyrat Edition
The Far Cry 4 Kyrat Edition will be a limited edition game that will be costing $129.99. So what can we expect from the game? Below are some of the things that will be in the game:
Far Cry 4 Limited Edition game
3 bonus missions and a harpoon gun
7.9 inch figurine of the villain Pagan Min seated on an elephant throne
16.5x30 inch Pagan Min propaganda poster
Travel Journal
Map of the Himalayan open-world of Kyrat
Exclusive collector's box