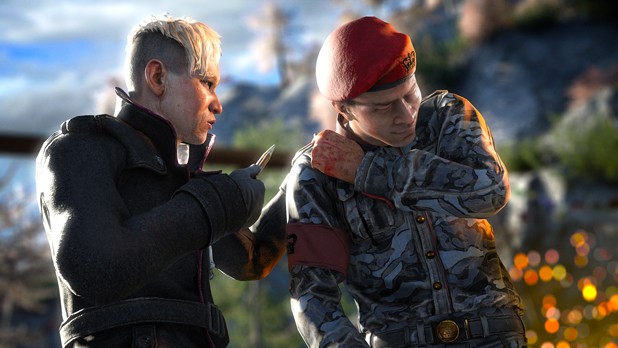 Fans of Far Cry know how crazy the game series can be and Far Cry 4 does not seem to disappoint at all. The game's new antagonist, Pagan Min is the proof. He is cool yet scary. He is a tyrant and the leader of the fictional Himalayan kingdom of Kyrat. He makes use of different methods of terror to keep the people in his kingdom under his thumb.
Ubisoft has detailed more about the character in Far Cry 4. "This guy is cool, he's scary, he's fun, because he's kind of wacko, but he's got this weird relationship with the main character as well, he's kind of friendly toward him, but you don't understand why," Raphael Parent, lead programmer told IBT Media in an interview. Players will be excited to know the character in the game.
He also said that the dictator kills his lieutenant and blows up everything around, he is connected to the protagonist, Ajay Ghale, a native who would have come to scatter the ashes of his dead mother, but unfortunately gets caught in the civil war.
He also said that players must be careful with what they do in the game since everything is related and will change the outcome. He also revealed the secret to infiltrate the fortress, for which players can either use an elephant, a gyrocopter or go on foot with the help of a sniper rifle.
Meanwhile, Ubisoft is also developing missions that are set outside the gaming world too. This was revealed by Alex Hutchinson, creative director in an interview with Red Bull.
Hutchinson said that Ubisoft Toronto and Shanghai studios have been involved in missions that will be set outside Kyrat and Ubisoft Montreal has been developing mission inside Kyrat.
"The core of the game is developed in Montreal as well as the main missions and most of the open-world," he said. "Ubisoft Toronto is working on a series of missions set in an all new environment outside of the game world, and so is Ubisoft Shanghai. We'll be showing their work off shortly, so stay tuned."
He also revealed that Red Storm Entertainment is working on the competitive multiplayer mode in Far Cry 4.
The game is expected to be released on 18 November for PC, PlayStation 3, PlayStation 4, Xbox 360, and Xbox One.