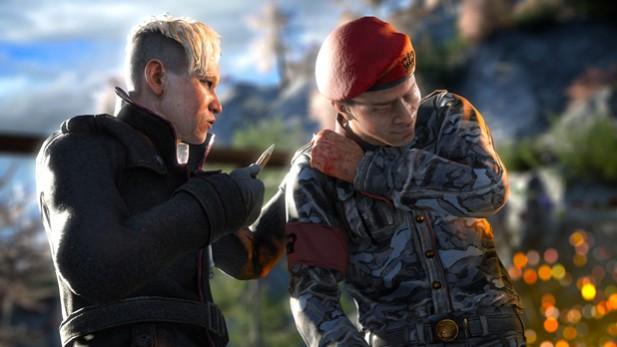 The latest release of Far Cry 4 game from Ubisoft has not gone down well with some gamers as some have reportedly been experiencing issues. Far Cry 4 released on 18 November for PC, PlayStation 3, PlayStation 4, Xbox 360 and Xbox One.
Many players received error messages that have resulted in many being unable to get into the game. Ubisoft has said this could be due to Far Cry 3 saved data. It has requested players facing these issues to submit the problems on its website, IGN reported.
Apart from this, connecting to the multiplayer was also problematic. Ubisoft posted the list of three important issues in Far Cry 4 on its official site:
PC Crashes: Some players have been reporting problems loading the game that result in a crash that manifests as a black screen. We have been able to reproduce this internally. While we are just starting to investigate this, our initial findings suggest that this may be the result of the presence of certain peripherals that are causing conflicts.
PlayStation 3 Corruption: We have seen reports from PS3 players that they are receiving a message reading "Game Data is corrupt. Please delete FC3 game data". While the message suggests this would be limited to players who had also played Far Cry 3 on the same console, we are receiving similar reports from players who have not played FC3. If you are submitting reports about this issue, please clarify if you've played Far Cry 3 or Blood Dragon on the same console.
Pre-Order Code Redemption: Players who pre-ordered the game were told that they would receive an email with a redemption code for the "Blood Ruby" bonus mission in advance of the game's release. Some players have reported that they did not yet receive this email, and some players have reported that they did receive the email but it was missing a valid code.
Day 1 Patch
Ubisoft has also released the Day 1 Patch and its notes that the company promises will fix some of the issues especially with playing offline, gameplay, performance and connectivity problems. Below are the complete patch notes of the Day 1 update that players of Far Cry 4 have to download before they start playing the game (Far Cry Live Update):
Stability and performance
Fixed some random crashes on all game modes
AI
Fixed various edge case animation issues
Fixed various edge case detection issues
Fixed missing VO for edge case reaction issues
Matchmaking, connectivity and replication
Fixed matchmaking edge case issues
Fixed host migration random and edge case issues
Fixed join-in-progress edge case issues
Fixed various replication issues between host and clients
Fixed edge case replication issues with systems
Menus and HUD
Fixed various edge case menus and pop-up overlap issues
Fixed Mission objectives and updates issues
Fixed Coop specific pop-up updates issues
Fixed few localisation issues (cut-off text, subtitles)
Fixed progression displaying 100% too early in progress tab
Polished tutorial images
Mission tweaks (campaign, coop and side content)
Fixed various low repro walkthrough breaks
World and 3D
Fixed various texture issues
Deleted some rare floating objects
Rendering and Graphics Features (PC Only)
Fixed rendering features not available under certain configuration
Fixed multi-monitor display issues
Fixed multiple visual artefacts; added SLI support
Inputs and Controls (PC Only)
Fixed mouse cursor and keyboard functionality
In-Game map editor
Fixed some graphical corruptions
Fixed some edge case issue with maps upload
Launch Trailer
Ubisoft has released the Launch Trailer for Far Cry 4 along with the details of the Seasons Pass and mobile companion app:
(YouTube Courtesy: Ubisoft UK)
(YouTube Courtesy: Ubisoft UK)
(YouTube Courtesy: Ubisoft UK)
Difference between 'Keys to Kyrat' and 'Share Play'
For owners of PlayStation 3 and PlayStation 4, Far Cry 4 offers them something special - the ability to invite other players who do not own the game. They can be invited to a co-op session.
In order to differentiate between Keys to Kyrat and Share Play, Sony has in its official blog, tried to clarify any confusions:
Keys to Kyrat: Each key allows one of your PSN friends to download Far Cry 4 and play a trial of online co-op without needing to purchase the game. Free two-hour trial of online co-op.
Share Play: Stream a game to a friend's PS4 so they can watch you play, take over your controller, or play as the second player in games that feature local multiplayer (something Far Cry 4 does not) even when they don't own a copy of it. One hour's time limit.
Game can be Finished under 15 Minutes
YouTube user - imperfectplayers - has posted a video that shows completing Far Cry 4 in less than 15 minutes. Beware of the spoilers in the video.
(YouTube Courtesy: imperfectplayers)