Earlier today, Harry Potter fans got to see how JK Rowling took everyone on a different kind of emotional ride with Johnny Depp and Jude Law starrer Fantastic Beasts: The Crimes of Grindelwald. The film has several high-octane scenes, some wonderful background score, and the climax which has led many to ask several questions.
The below paragraphs are filled with massive spoilers from recently released Fantastic Beasts: The Crimes of Grindelwald.
In 2016's Fantastic Beasts and Where to Find Them, JK Rowling introduced us with a new story from the wizarding world. The film revealed how Percival Graves was actually being a disguised version of Gellert Grindelwald (Johnny Depp) — the most powerful wizard to ever live before Tom Riddle. In the first Fantastic Beasts, it was made clear that the future movies will somehow bring Albus Dumbledore and other Harry Potter characters.
In Fantastic Beasts: The Crimes of Grindelwald, there are several such moments that make any Harry Potter fan chuckle, like the take on Lestrange family, what Albus Dumbledore actually saw in the Mirror of Erised, and the most important, the film revealed Credence's family heritage and everyone is now going gaga over it.
In Fantastic Beasts: The Crimes of Grindelwald, Credence Barebone (Ezra Miller) is in search for his true lineage. He is even shown in some sort of an intimate relationship with Nagini (Claudia Kim). In the movie, Newt Scamander is asked by the Ministry of Magic to find and kill Credence, which he denies.
But when Albus Dumbledore asks him to go and look for Credence, before Grindelwald does, he goes on this adventurous ride that takes him to Paris and later to London where he encounters with Grindelwald himself.
However, in the end, it is revealed by Gellert Grindelwald that Credence real name is Aurelius Dumbledore.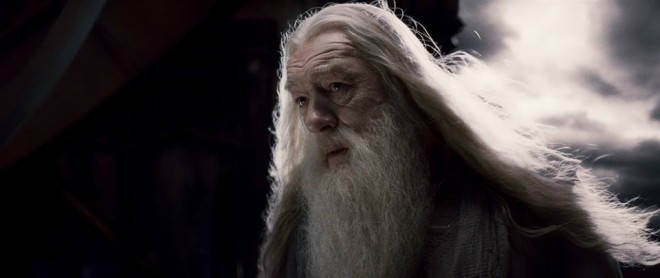 Well, in all the Harry Potter books and the subsequent movies, the name Aurelius Dumbledore is nowhere to be found. As per Harry Potter and the Deathly Hallows, Albus Dumbledore had a tough childhood. His mother, Kendra died in an explosion in 1899, while his father, Percival was sent to Azkaban for life in 1890. If it is to believe that Credence is somewhere around 18 years old in Fantastic Beasts and Where to Find Them, he would have been born in 1908.
As per CinemaBlend, there are chances that Gellert Grindelwald has lied to Credence in order to defeat Albus Dumbledore. As it is mentioned in the movie that Credence is the only one who can stop the greatest wizard of all time and Gellert might be lying to him, in order to put all the blame on Professor Dumbledore.
Well, nothing is sure as of this moment and fans will have to wait till November 2019 to watch Fantastic Beasts 3 in order to understand Gellert Grindelwald's true plan to defeat Albus Dumbledore, which obviously he will fail.