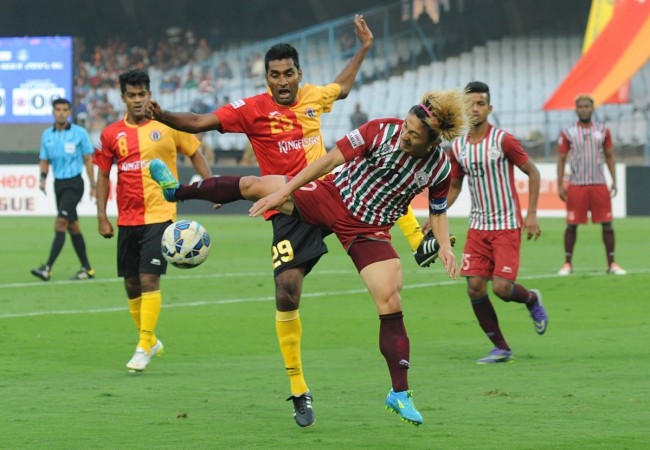 We have to turn back the pages of history to find out when a high-profile Indian football team from Kolkata had pulled out from one of the greatest sporting derbies in the world — the Kolkata Derby. It was back in 1985 that Mohun Bagan had to pull out of their high-intensity clash against East Bengal, leaving fans totally disappointed.
A similar thing transpired on Wednesday during the Calcutta Football League 2016 (CFL 2016) Kolkata Derby. The two sides were scheduled to clash in the afternoon at the Kalyani Stadium. Mohun Bagan pulled out of the match yet again, following a fallout with the IFA (Indian Football Association) — the organisers of the CFL.
This led to East Bengal getting a walkover as well as their seventh successive CFL title win. The Red and Golds fans arrived at the stadium with banners and flags in the match, but nowhere were the Mohun Bagan team seen.
It all started when Mohun Bagan officials complained of poor refereeing during their previous CFL 2016 match against Tollygunge Agragami, where they alleged that as many as three goals were denied. Bagan officials wrote to the IFA to have a replay of the match and also have their fixtures rescheduled.
The IFA, on their part, didn't pay heed to the request.
Mohun Bagan also demanded that they be allotted 50 percent of the tickets of the match as well as at least two days of practice at the venue prior to the day of the match, both of which did not happen.
"We have communicated to Mohun Bagan that we cannot spare more than 2000 tickets for them, as per their original suggestion of reserving 25% of all tickets for both clubs," Utpal Ganguly, IFA Secretary, said to the Press Trust of India. "We had planned for 16,000 spectators, but the temporary gallery was not satisfactory as per the safety requirements. We will not be able to defer the match beyond Sept. 7."
Mohun Bagan Managing Director Anjan Mitra, meanwhile, stuck to his guns. "We are not turning up [for the match] tomorrow [Wednesday]. About eight of our players have not even seen Kalyani Stadium, how can we play without even a day's practice?," he asked on Tuesday.
East Bengal, meanwhile, had set their priorities straight. "We will reach the ground at the right time, and wait for 90 minutes. Now, if Mohun Bagan did not make an appearance, we should get a walk-over and three points," an East Bengal official had earlier told IANS.
Indian football fans share their disguist on social media