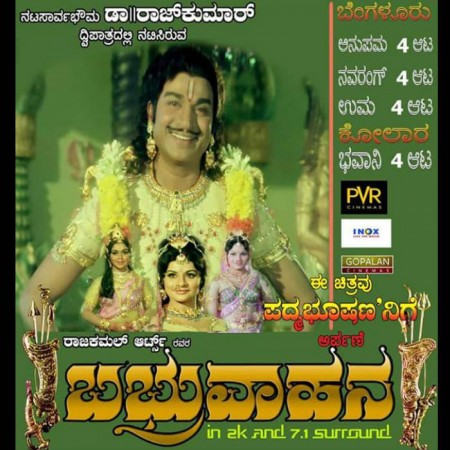 Dr. Rajkumar's mythological film "Babruvahana" has been re-released to coincide with the 87th birthday of the legendary Kannada actor, which falls on April 24. The upgraded version of the movie, with DTS Technology and DI work, was released on Friday, April 22.
The movie has been distributed by KCN Mohan, who has spent over Rs. 60 lakh on improving the quality in the latest version. "Babruvahana" was made with the budget of Rs. 35 lakh in 1977.
Dr. Rajkumar was seen in a double role — he played Arjuna and his son Babruvahana — in the movie. B Saroja Devi was seen as Chitrangade, while Kanchana and Jayamala played the roles of Uloopi and Subhadra, respectively. Vajramuni, Thoogudeepa Srinivas, Ramakrishna, Shakti Prasad, Shani Mahadevappa and others form the rest of the cast. The movie, which featured direction and screenplay by Hunsur Krishnamurthy, was produced by KCN Chandrashekhar.
The re-released version was shown in 60 screens in Karnataka on Friday and met with a decent response. The collection of the film is expected to improve during the weekend.
"Babruvahana" is the sixth movie of Dr. Rajkumar to have been re-released with superior quality, after "Satya Harishchandra," "Kasturi Nivasa," "Raja Nanna Raja," "Naanobba Kalla" and "Operation Diamond Racket."
Meanwhile, the fans of Dr. Rajkumar, as always, will conduct charity activities on his birthday. Many of his fans are expected to pledge their eyes, an act that has gained momentum in the recent years.
Dr. Rajkumar started his career in "Bedara Kannappa" in 1954 and was part of many successful movies, including, "Mayor Muthanna," "Sri Krishnadevaraya," "Kasturi Nivasa," "Sakshatkara," " Bangaarada Manushya," "Sampathige Saval" and "Mayura."
In his five-decade career, he acted in 208 films. His last movie was "Shabdavedhi," directed by S Narayan.