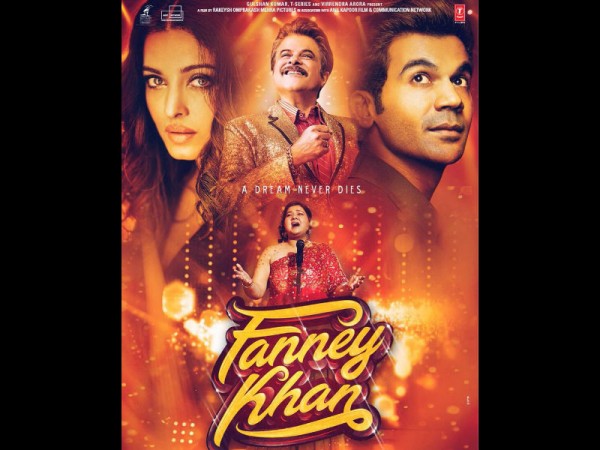 Emotional connection with the audience and light humour are one of the prerequisites for a melodrama to be appreciated, and Fanney Khan is one such movie. So much so, that the touchy moments somehow cover up the series of illogicalities in the film.
STORYLINE
A common man Prashant (Anil Kapoor), who loves being called Fanney Khan (means artist), has a dream of becoming a singing star someday. While he fails to become "Mohammed Rafi", he wishes to see his daughter become "Lata Mangeshkar" one day. He names his daughter Lata (Pihu Sand)
But as high dreams follow tough times, an over-weight Lata faces a series of body-shaming and gets ridiculed for her singing too in every contest she participates. Ultimately, it is only her father who still has belief in his Lata, and thrives to make her a big star.
With no option left, Prashant, with the help of his friend Adhir (Rajkummar Rao), takes the dangerous step of kidnapping popular singer Baby Singh (Aishwarya Rai Bachchan). His plan is to demand ransom and use the money to make a music album for his daughter.
Watch the movie to see whether the father is able to make his and his daughter's dream come true or ends up with the fate that any kidnapper is expected to have.
PERFORMANCES
Anil Kapoor is fantastic and truly the evergreen star. Despite being 61 years old, his energy level is unbelievable. He perfectly portrays the character of a man who is willing to do anything to make his daughter's dream come true. He is the central character in the film, adding both humour as well as emotion beautifully.
Rajkummar Rao, as usual, is again terrific. His comic timing and expressions make the film an interesting watch. His chemistry with Aishwarya is adorable too.
Aishwarya looks extremely gorgeous in the film and very well showcases the pain that many stars hide behind their glamorous faces. Her swag as superstar Baby Singh is unbeatable.
Debutant Pihu Sand is brilliant. The young actress not even once makes it appear to be her first film. Pihu perfectly portrays the struggles that an over-weight girl faces, and also pulls off the emotional scenes with precision.
Divya Dutta, playing the character of Fanney Khan's wife, has limited screen space but does justice to her role. She touches your heart as a supportive wife and mother.
Girish Kulkarni as Baby Singh's manager is a pervert and wicked man in the film. His creepiness is good enough to make you hate him. Overall, Fanney Khan is absolutely great performance wise.
POSITIVES
Fanney Khan has a good balance of emotion and humour. The film at times makes you feel touchy and soon again makes you giggle with its light comedy. The way amateur kidnappers – Anil and Rajkummar deals with the kidnapping business makes the best moments. The director manages to pull off the film without making it appear slugging at any point.
NEGATIVES
The biggest loophole of Fanney Khan is its lack of logic. The film has a series of incidents that actually does not make sense. For instance, a superstar gets kidnapped and her watchman also sees the face of one of the amateur kidnappers, but police are unable to nab or even trace them. On top of that, the victim's phone remains active all throughout the process, but still, the cops have no clue.
VERDICT
Fanney Khan is a good entertainer with a balanced dose of humour and emotion. It is blessed with some fine performances but lacks in logic. You will enjoy it if you just overlook the illogicalities.