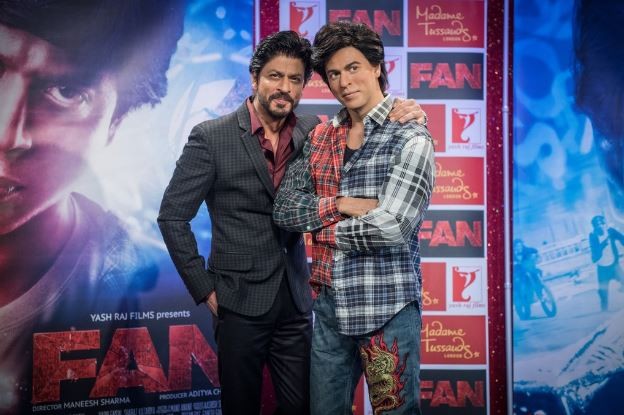 Shah Rukh Khan's "Fan" has opened to positive reviews, and the actor's portrayal of Gaurav Chandana is being applauded across the board. In a quick interview with the press, the media-shy Gaurav opens up like never before.
Yash Raj Films shared a clip where Gaurav answers questions thrown at him by the media. He talks about his admiration for superstar Aryan, love life, career and more.
Since he is such a huge fan of the actor's, he lets in on who would qualify as the biggest fan. A "sachcha" fan is the one who wants to be the first one to witness everything his/ her idol does.
He says everyone puts up pictures, writes letters, and at times he does it too, but a "real fan" always watches his cine idol's films first day first show. Gaurav also talks extensively about how much of a resemblance he has to Aryan. The dimple isn't as deep but he does look very similar to the waning superstar.
Academy Award-winning makeup artist Greg Cannom was roped in for the makeup. He created a face with features that are similar, but not obvious.
Interestingly, the interview is only a promotional strategy but it was good to know what goes on in Gaurav's head when he is obsessing about Aryan. The character is well-written and what's best is SRK's portrayal. He makes Gaurav real and relatable.
Directed by Maneesh Sharma, the film also stars Shriya Pilgaonkar, Sayani Gupta, Waluscha De Sousa, Yogendra Tiku and Deepika Amin in key roles.
Check the interview here: