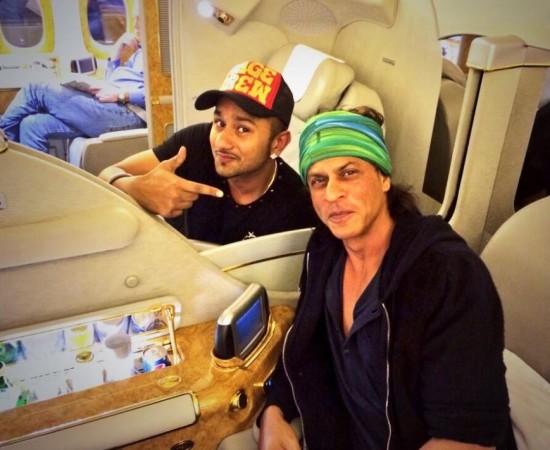 Shah Rukh Khan and Yo Yo Honey Singh's fallout story had become a conversation-starter at one point of time, but all that gossip was laid to rest when the rapper-musician shared a selfie on social media with the superstar. Cashing in on this restored friendship, the Times of India Film Awards 2016 has pulled these two on board for a performance, BollywoodLife reports.
Whether they will share the stage to deliver a special performance is another story, but the news that Singh will be back to entertaining millions of his fans after a hiatus of sorts is exciting. While he was on a self-imposed exile, there were reports which stated he was recovering from some sort of heart ailment in the comforts of his home.
Interestingly, a few were led to believe Singh was disappointed beyond belief after SRK slapped him during the SLAM! The Tour concert, which was why he fell into depression. Wife Shalini Singh had rubbished rumours, saying there were no hard feelings between the two, and adding that the superstar considered Singh to be his younger brother.
However, there was an interesting narrative contradicting the statements given by the wife that did the round for a short while. "Neither of them may own up to it, but I don't think Honey Singh will ever work with SRK again," a close collaborator of Singh's had told Mumbai Mirror last January.
To be held in Dubai on March 18, the award show will also see some sizzling performances by Varun Dhawan and Jacqeuline Fernandez.