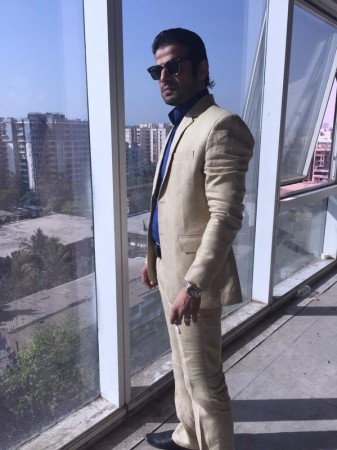 Television heartthrob Karan Patel aka Raman of "Yeh Hai Mohabbatein", who has been ruling the hearts of millions across the globe, is known to admire Bollywood superstar Shah Rukh Khan.
Not just a fan, Karan seems to mimic the superstar so much that his postures and expressions on his on-screen role tend to remind the audiences of the "Raees" actor.
In the recently held Star Parivaar Awards, Karan was also seen sporting a pony tail and spectacles, resembling that of the superstar.
However, the newly married actor has always denied imitating the "Dilwale" actor. When asked by Telly Chakkar, the actor said: "Not at all. It is the way I dress up, but if it turns out the way SRK dresses too, it's a coincidence. I've admired him and his work all my life. Being even this close to the way he dresses and looks is a big thing for me."
Now, Karan's twitter followers have made a collage of his and SRK's pictures, in which striking similarities between the duo can be seen. With this, it is hard to deny that Karan is indeed the SRK of television.
Talking about the pictures, Karan said: "Whoever came up with that has a mind that functions wondrously. I wouldn't have even thought of this."
An edit made by a fan, me with theman i worship @iamsrk ...!! Thankyou ...!! pic.twitter.com/8rx0dBQmlt

— Karan Patel (@TheKaranPatel) June 13, 2015
Love❤❤ Is the power to see similarity ... @TheKaranPatel pic.twitter.com/68bzRCUKuL — ʝıą.❤.kaɾaŋ (@qureshisubhan11) June 9, 2015
First they shared their stardom. Then they shared their smiles. #Superstars #FriendsForLife #DivAn || #SRKajol pic.twitter.com/2qwA878BS6

— Riah Kapoor (@xxRiah) June 9, 2015
@TheKaranPatel @iamsrk Dimples create kings..... Lucky dimples #dimples #manhood #kings Hv a look plzz... pic.twitter.com/5cf4rEeilT — **Nipuni** (@NipuniPoornima) June 11, 2015
@TheKaranPatel @iamsrk Each Person Mustt live dier life As A Model 4 others.. See They R living @AnkzBhargava Love pic.twitter.com/xwKpRjbe7q

— Shivani Thakral (@ShivaniThakral3) June 11, 2015
it's so adorable dat hw dey r holding deir Wives too much love..!! #SrkGauri #KarAnkita @TheKaranPatel @AnkzBhargava pic.twitter.com/EruiTmJgeq — Jenifa Parveen (@parveen_jenifa) June 11, 2015
@TheKaranPatel @iamsrk Perfect personality #smile Kings of Bollywood & tellywood SRK & KP pic.twitter.com/5eVD2yC0ss

— **Nipuni** (@NipuniPoornima) June 11, 2015
@TheKaranPatel @iamsrk It's not special to be special ,it's special to be ORDINARY -SRK- SRKP , always ordinary pic.twitter.com/YcPCjkxV3Y — **Nipuni** (@NipuniPoornima) June 15, 2015
Similarity or Resemblance..... This is for u @TheKaranPatel Plzz Do see this..Plzzzzzzzzzzzzzzzzz.... pic.twitter.com/EnU9NaFgaS

— Arti admires KP (@aartii192) May 30, 2015
@TheKaranPatel ... Li'l confused that's why 2edit for u .... Hope u like it pic.twitter.com/5SUnqlht27 — ʝıą.❤.kaɾaŋ (@qureshisubhan11) May 30, 2015
Work so hard ..that one day your signature will be called autograph.... @TheKaranPatel ...please sir see this.,... pic.twitter.com/9RGqYdwu3p

— ʝıą.❤.kaɾaŋ (@qureshisubhan11) May 25, 2015