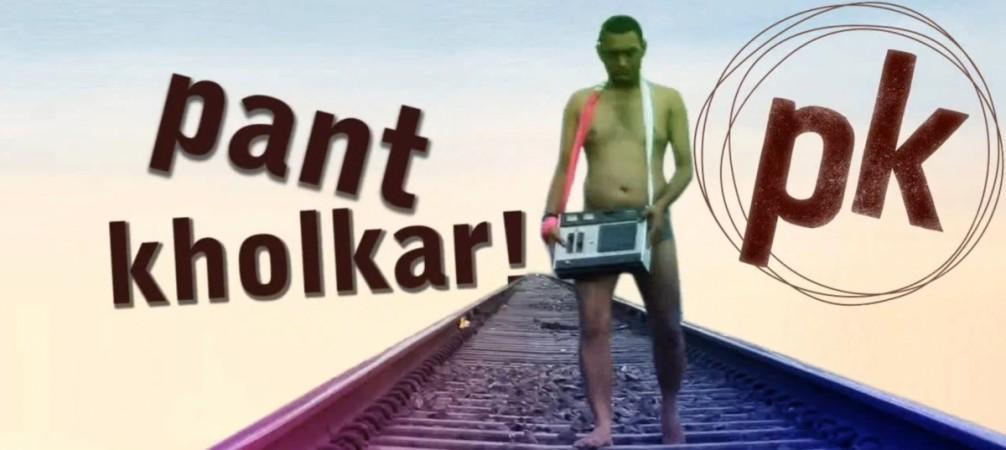 After landing in legal trouble, Aamir Khan's 'nude' 'P.K' poster has now become the butt of several jokes. Social media is peppered with memes of the well-sculpted actor posing naked on a rail track with just a transistor to cover his privates. The jokes got funnier when a 'fan' decided to roam through the streets of Delhi to promote (or heaven knows for what) the actor's film.
The daring walk on the stretch connecting India Gate and Rashtrapati Bhavan was met with obvious reactions – shock, surprise and laughter. With a straight face, the man then travelled to Connaught Place, which is one of the biggest commercial centers in the capital.
PranKBaaz: Best Pranks of India/Funny or Die!, a YouTube channel, recorded the youth's walk and asked some of the passersby to shed light on Khan's 'P.K' poster. 'Pant kholkar' to 'Peekay' (drunk in Hindi), the responses were hilarious. Some also said, Khan will 'show' something 'alag' this year end (pun intended).
The Khans of Bollywood have a loyal and a crazy fan base, but to strip and express admiration for a cine actor comes across as slightly off. Amid all the appraisals and admiration, the perfectionist Khan has found himself in troubled waters this time. With two cases and one police complaint, 'P.K' is not heading the way it first set out for.
Khan, however, defended about his poster nudity at a recent event. He told Hindustan Times, "When you watch the film, you will understand what it means. But the kind of writer and filmmaker that Raju (Hirani) is, he always gives out big and meaningful messages with his art. When you watch the film, you will realise this is key art."
Watch video below: