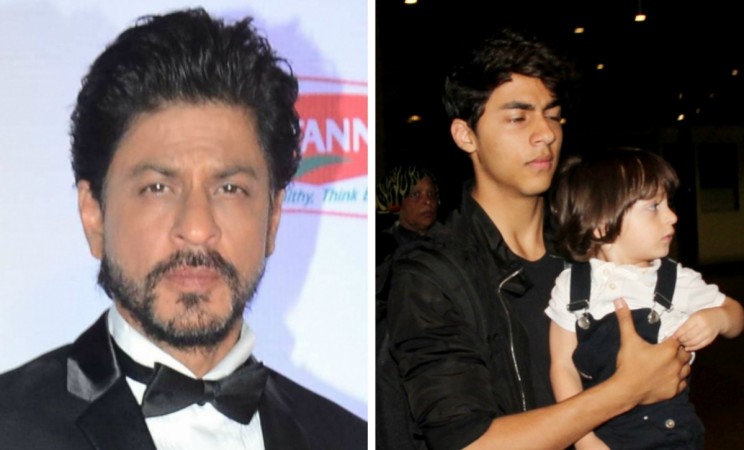 Shah Rukh Khan's "Fan" has received mixed reviews from critics, but the film's climax has left SRK's youngest son AbRam Khan little disturbed. Shah Rukh, in an interview, said that although AbRam has liked the movie as it had the actor in double roles, he said that the fighting scenes between Gaurav and Aryan (characters played by Shah Rukh) left the kid disturbed.
"Yes, AbRam has watched the film and he has liked it too as he kept on saying 'two two papas.' And there was a sequence in the film which is quite magical actually when Gaurav is dancing in front of Aryan and he is doing all the old songs from my films and he said 'so many papas so many papas'," said Shah Rukh when asked if AbRam knew that the role of Gaurav was played by him.
"But near the end of the film, he got really disturbed because I think the papas were fighting really hard so he got really disturbed," SRK added. Shah Rukh looked very different, playing the character of Gaurav and the actor has pulled off the role with conviction.
Shah Rukh's "Fan" is a story about a superstar's fan, whose obsession for the actor eventually turns dangerous. Directed by Maneesh Sharma, "Fan" has got a brilliant opening at the box office. Earlier, Shah Rukh had said that his sons -- Aryan and AbRam -- can be good choices to play his character if any film-maker comes up with a biopic on his life.
"I think whichever director will want to make a film on me, will decide who he wants to cast. I can't be that self-obsessed that I go deciding who should play me, though Aryan and AbRam could be the choices," SRK told Press Trust of India.