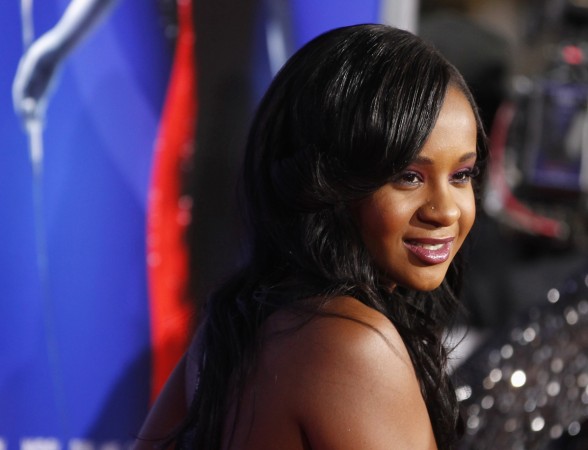 Nearly five months after being found facedown in a bathtub in her Georgia home, Bobbi Kristina Brown still remains unresponsive.
However, her family hasn't given up hope that the 22-year-old will be completely healed with God's grace, her aunt Leolah Brown said in a recent Facebook post.
"We are allowing her to just continue healing in God's Grace and Mercy," Bobby Brown's sister wrote on her Facebook page via the Atlanta Journal Constitution. "Please continue to be patient with us. You have no idea how much my brother Bobby and Bobbi Kriss are grateful and appreciates your kind words and prayers! In fact, we are all grateful to Almighty God for allowing us to still have Krissi with us!"
But her mother's side feel chances of Bobbi Kristina making a full recovery are grim. Contrary to the Brown family updates, which have always been positive, Bobbi Kristina's grandmother Cissy Houston revealed back in April that Bobbi Kristina has irreversible brain damage. However, they too were hoping for a miracle.
"I have just returned from visiting my granddaughter Bobbi Kristina in the hospital and while she is no longer in a medically induced coma she has a tracheotomy and according to the doctors she has global and irreversible brain damage and remains unresponsive," Houston told Us Weekly. "Meeting with the doctors and understanding that she can live in this condition for a lifetime truly saddens me. We can only trust in God for a miracle at this time."
In the meantime, investigation remains active on what happened to Bobbi Kristina on 31 January, and it will remain so until a decision is made not to prosecute anyone.
Bobbi Kristina is currently in an Atlanta-area rehabilitation facility, and her condition has not improved much since March.
"They are most likely waiting to see the outcome of whether or not she dies before bringing any charges," attorney Julie Rice told People about the status of the investigation.
"They would most likely wait until if she died to bring charges rather than bring charges when there is no death involved. If they do have a suspect in mind, they are probably monitoring that person at all times."