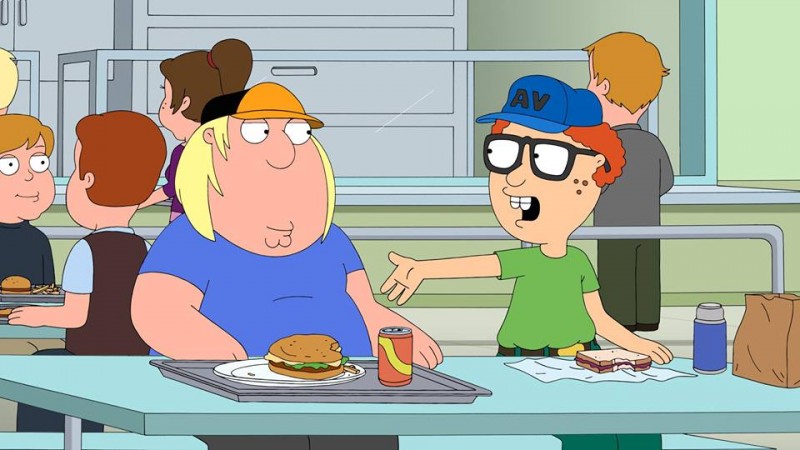 In the upcoming episode titled "Run, Chris, Run" of "Family Guy" Season 14, Chris will be elected the homecoming king, much to everyone's surprise. However, it seems Meg has got some really nasty pranks up her sleeve.
CLICK HERE to watch how Chris becomes the homecoming king and whether Meg finds out the truth behind it in the upcoming episode.
According to the synopsis of the episode by TV.com: "Chris is surprisingly elected homecoming king, but Meg learns the cool clique plans to prank him during the upcoming ceremony. Meanwhile, the guys seek a replacement for Cleveland when he begins hanging out with Jerome the bartender."
Peter and others are angry with Cleveland for quitting their group and befriending Jerome. However, soon they realise that it happened for good and start searching for Cleveland's replacement. The upcoming episode will feature their quest for a new buddy.
In the previous episode titled "The New Adventures of Old Tom," The Griffins headed to the mall to buy Lois new underpants, since Peter, Cleveland and Joe ruined all of her current pairs by stretching them out to use as slingshots (Quagmire found a very different use for them, but it also left Lois unable to wear them anymore). Peter wanted to ride the kiddie train, but was denied entry as he was an adult.
Meanwhile, Brian fell for a girl working at the mall's jewelry store, named Shelby, and lied that he was a millionaire. She was impressed with him and Brian purchased a $10,000 diamond he planned to return for a full refund in three days, as per store policy.
Elsewhere, Peter fooled around the mall by playing video games and getting a makeover. The family eventually decided to leave without him. After they left, Peter tried to search for them and encountered Mort Goldman along with a fat guy who joined his call for "Lois!" because, as he told Peter, Lois clearly had a thing for overweight men. Around closing time, he decided to ride the kiddie train, but broke the acceleration lever, causing it to spin out of control.