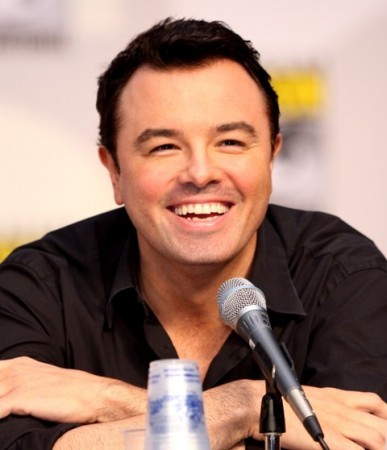 In the upcoming episode of "Family Guy" Stewie and Brian decide to take their relationship to the next level by becoming blood brothers. But this doesn't end up well for Stewie, who get a sexually transmitted disease from Brian.
In the episode titled "Herpe, The Love Sore," which will be aired on Sunday, Brian explains to Stewie that being blood brothers is an ancient ritual where two friends intermingle their blood, thus sealing a bond deeper than friendship.
Hearing this, the toddler gets excited and says "Brian, I want you inside me."
He then proceeds to tell the uncomfortable looking dog that since they have been through various adventures together, there should be nothing stopping them from being blood brothers.
"I really feel the bond Brian," Stewie says after they complete the ritual of slashing their palms and shaking hands. "I feel we are more closer now - more connected, more intertwined."
Stewie questions Brian if the dog is blood brothers with Meg because he ate her tampon from the trash. "No, that's something else," Brian explains.
Stewie and Brian have a complex love-hate relationship in the series, but Brian is often portrayed as the only character who understands the toddler.
In an earlier episode, Brian was shown as dead much to the dismay of fans. But later he was brought back alive and Seth MacFarlane, creator of "Family Guy," revealed later on that the dog's death was a shock element and he did not expect viewers to launch petitions to bring back the dog.
"We were all very surprised, in a good way, that people still cared enough about that character to be that angry. We thought it would create a little bit of a stir, but the rage wasn't something we counted on." MacFarlane told the media early this year.
"It did what it was designed to do — it reminded people this is still a show where anything that can happen despite the fact it's been on for a while," he added, according to The Independent.
Meanwhile, Sunday's episode will also see Peter and gang fighting another group who have taken their booth at the Drunken Clam.
(Edited by Vanilla Sharma)