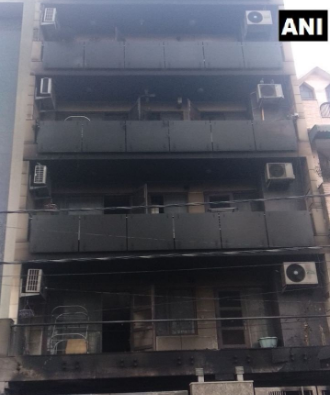 A major fire broke out in a residential building in New Delhi's Kohat Enclave near Pitampura that killed a family of four in the wee hours of Friday, April 13. According to the fire department, a short circuit led to the fire in the four-storeyed building.
The four victims belonged to the same family, including 2 children aged 3 years and 7 years. Two other residents also sustained burns and five vehicles parked in the basement were damaged due to the fire.
The fire reportedly broke out in the pump room of the building. The alert neighbors informed the emergency services, however, they claimed that the fire department officials arrived late, NDTV reported.
The fire department officials received the call regarding the fire around 2.15 am. The fire had started on the first floor and eventually spread to all the other three floors.
Eight fire tenders arrived at the spot to douse the fire, however, it was too late as the family of four were charred to death. The firefighters recovered four bodies from two floors. Reports suggest that the family was sleeping at the time of the incident and could not find an escape route.
The fire was brought under control after an hour at 4 am. The fire department officials also rescued six residents during the cooling operations, The Times of India reported.
The injured residents were taken to the nearby Ambedkar hospital for treatment. A 90-year-old woman is said to be in critical condition.
In a similar incident, a major fire broke out in a jewelry shop located in Delhi's Lajpat Nagar market Wednesday, April 11. A fire tender who was part of the cooling operation injured himself during the operations.
"The call about a fire in the fourth floor of a building in Lajpat Nagar-II's Central Market area was received at 8:55 am. A fire officer got injured as a cylinder exploded while he was on duty there. He suffered burn injuries to his face and hands from the blaze," a Delhi Fire Services (DFS) official was quoted as saying by NDTV.