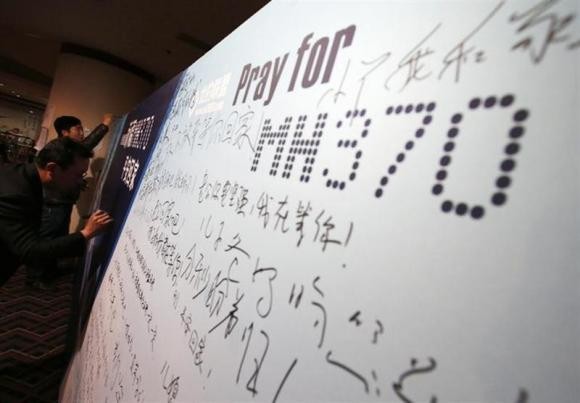 Angry family members of the missing Malaysia Airlines flight MH370 hurled abuses at high-level Malaysian officers when the team left a Beijing hall after a 30-minute meeting on Saturday.
The government delegation, comprising of notable high-level officials, angered family members of Chinese passengers when they invited them to send in written questions for further follow-ups, The Star Online reported.
The team, which comprised of Malaysian ambassador to China Datuk Iskandar Sarudin, RMAF air operations commander Lt-General Datuk Seri Ackbal Abdul Samad, and Department of Civil Aviation air traffic services director Ahmand Nizar Zolfakar, had taken turns to answer questions submitted by the families a day before, according to reports.
Family members, who reportedly came to the meeting prepared with PowerPoint presentations to raise more doubts degrading the mysterious disappearance of MH370, were shocked when they were invited to hand over written questions.
The Malaysian officials decided to exit the ballroom as the crowd started growing increasingly unruly. Family members yelled at the team, demanding that they stay and answer their queries, swiftly converting the peaceful meeting hall into a ruckus.
"You've seen now how the Malaysian government treats us! How do you think they will treat our families onboard the flight?" one family member was quoted as saying.
"There are two killers here! One is the hijacker on the flight, and another is Malaysian government!"
Even as the search for the ill-fated plane has entered its second week after mysteriously vanishing with 239 people onboard while travelling to Beijing from Kuala Lumpur, belief that the Malaysian government is hiding the truth and is avoiding the families is running high.
"Say no to lying! Announce the truth! Give me back my loved ones!" the family members were heard chanting.
Weeks after the wide-body jet went missing, Australia said it has spotted two objects seen on satellite images that could potentially be linked to the missing plane.
Search and rescue ships and planes have, however, not been able to find any wreckage in that area.
Also Read: Malaysian Woman from Different Flight Saw Missing Plane MH370 Sinking in Ocean