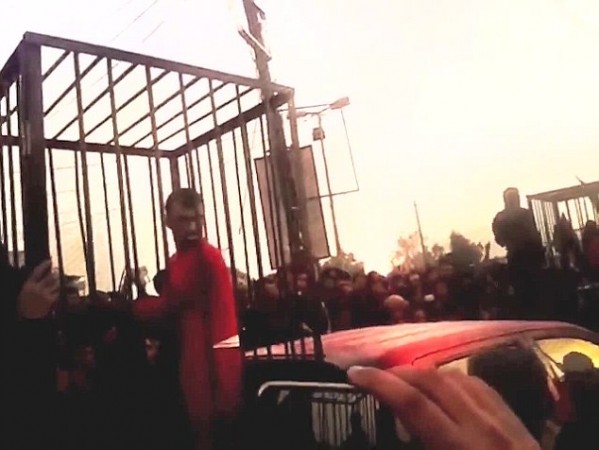 After the Islamic State released a video of 17 Peshmerga fighters locked inside cages in what appears to be a prequel to them being burned alive, their families have approached the Kirkuk administration to negotiate with the militants for their release.
"Almost 70 relatives of the Peshmarga hostages demonstrated, and it is believed they will issue a statement urging the Kirkuk administration to take immediate action to follow up on the fate of the captives," a Rudaw report citing its Kirkuk correspondent noted.
The relatives of the Kurdish fighters also have approached the political council of Arabs in Kirkuk to mediate between the families of the captives and ISIS.
"We have no option but to start negotiations with ISIS to exchange captives," Mohammad Khalil Jabouri, a member of the Kirkuk provincial council told the Kurdish daily. "We have their captives and they have ours. Negotiation is they only moral way to deal with this."
The ISIS video showed the 17 Peshmerga prisoners in orange jumpsuit inside cages, while black-clad militants are seen waving Kalashnikovs at the screaming crowd.
The captured soldiers were each forced to stand alone in a cage similar to the one used in the murder of Jordanian pilot Muath al-Kasaesbeh. He was burnt alive by ISIS last month for participating in airstrikes targeting the militant strongholds.
Meanwhile, Ari Mamshae, an Erbil-based senior civil servant in the Kurdish President's office, said ISIS had vowed to murder the 17 abducted Peshmerga fighters.
"They say they will burn them," he wrote on Twitter.