Residents of Hawaii were in for quite a scare on Saturday, January 13, after an emergency missile alert was sent out. The alert said that a ballistic missile had been fired into Hawaii and asked people to seek shelter immediately.
While this turned out to be a false alarm, caused by an employee of Hawaii's Emergency Management Agency who "pushed the wrong button," residents scrambled to safety after receiving the alert. Several people hunkered down in building basements and even crawled under tables.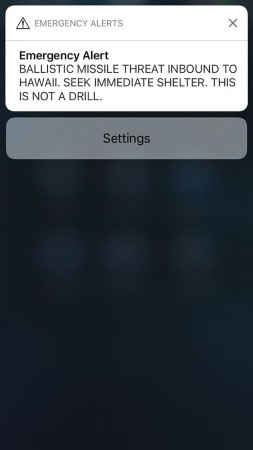 Jocelyn Azbell, who was staying at the Maui hotel, told CNN that she had received an alert on her phone which read: "Ballistic missile threat inbound to Hawaii. Seek immediate shelter. This is not a drill."
Minutes later the people were asked to take shelter in the basement of the hotel. "You're thinking, 'Oh my gosh, are we going to die? Is it really a missile (headed) our way, or is it just a test?' We really didn't know," she explained. The guests at the hotel reportedly waited 20 minutes, before they were told it was a false alarm.
Later, another alert was sent out informing the people that there was no such threat. "There is no missile threat or danger to the State of Hawaii. Repeat. False alarm," it read.
"It was a mistake made during a standard procedure at the change over of a shift, and an employee pushed the wrong button," Hawaii Governor David Ige told CNN.
While numerous residents of Hawaii spoke about how terrified they were when they received the alert, there are several responses on Reddit where people have spoken about how they reacted to the alert and some are weird and hilarious.
Here are a few of these responses:
I got drunk for the first time in 4 years of sobriety... oops -- two_black_eyes
All I regret is filling my emergency water containers right behind the car. So now I'm blocked in the garage by 150 gallons of water -- fusepark
My 70 year old dad ate two loaves of bread while hiding in his closet. He said he only regrets it because he has to buy more bread now -- lookma_noserotonin
Hawaii resident here. While I didn't make the impulse decision, the people around me did. I was sleeping when the announcement came out, and the others in my house didn't decide to wake me up. They said if I was gonna die, might as well let me die in my sleep. Edit: We all became tired of the news after two hours. Just became annoying -- PacamaHM
I made an impulse decision to stay in bed with my wife. Nowhere to go for safety, no time to get there anyway. Might as well be comfortable in my bed with someone i love -- Fearlessleader85
I ate all the leftover lasagna in my fridge. I figured that if shits about to hit the fan, I better carb tf up -- d**kheadf**tface
My uncle and his family live in Hawaii. He's been cheating on his wife for 2 years. We all found out about it in a mass text he sent 5 minutes after the emergency text went out. He wanted "clear the air" before he died -- jmanmaster
The island state has been wary of the missile threat since US President Donald Trump and North Korean leader Kim Jong-un indulged in a war of words threatening to destroy each other's nation. Experts have predicted that in case a missile was fired at Hawaii from Pyongyang, it would take just about 30 minutes to reach the state.
During his New Year address to the nation, Kim had taken a dig at the US and said that a nuclear button was always on his desk. "The entire United States is within range of our nuclear weapons, and a nuclear button is always on my desk. This is reality, not a threat," Kim said during a televised New Year's Day speech, according to Reuters. Later Trump had retorted that his button was "bigger" than Pyongyang's.