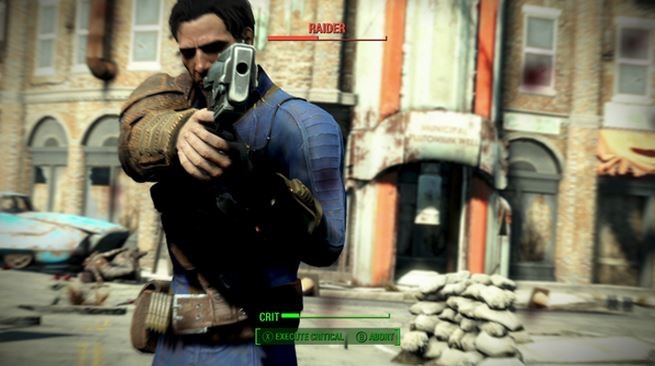 Fallout 4 from Bethesda has not only become more popular following its release on 10 November, but has been a successful addition to the Fallout series.
Though the game had to grapple with launch issues and bugs, it has not thwarted its hardcore fans from buying the game.
It has been reported that the game has been a huge success with 12 million copies (worldwide) being shipped on day one. The developer made an "excess of $750 million" and setting record sales at retail and online stores.
"Major retailers have informed Bethesda of the tremendous consumer interest in Fallout 4 , with some noting it was the most pre-ordered game this year," said Bethesda, GameSpot reported.
The company also noted that Pip-Boy Edition became the fastest-selling collector's edition for any game in history.
This post-apocalyptic game was released for PC, PS4 and Xbox One.
As the players increase the number of hours they log playing the game, it reveals interesting things. Thanks to one such player, who has discovered a glitch in Fallout 4 that allows the players to get Infinite SPECIAL (Strength, Perception, Endurance, Charisma, Intelligence, Agility, Luck) points.
It is reportedly a simple glitch that needs an in-game companion, preferable Dogmeat.
Below are the steps to get some SPECIAL points via this glitch:
You need to get your Dog
Go back to Sanctuary and if you haven't it already, there is a book under the crib dresser titled as "You're Special". Pick it up, use it.
Now that it's in your inventory, drop it on the ground
Order your Dog to pick it up, but right before he does you need to quickly pick it up
If this is done correctly the dog will drop the item and it will be in your inventory still (which also duplicate any item by the way)
Pick up the copy Dog dropped and you should have 2 "You're Special books"
Drop both on the ground and one should now activate again
Repeat to max out your SPECIAL points and save your level up points for perks. Hope this helps some people out.
The players must note that Bethesda could soon patch this glitch and make use of it until it lasts.
Fix for Pip-Boy app error on PC
Several Fallout 4 PC players have experienced an issue with the Pip-Boy app when they connect it to the PC. Gamepur has shared a fix for this issue.
Go to Control Panel, select Windows Firewall in the main screen that shows all the Control Panel items.
Players will find Advanced Setting son the top left corner. Go ahead and click it. Once this is done, players will see Inbound Rules on the left side of the screen.
Now click on the Inbound Rules, we will be able to see four Fallout 4 references in the middle of the screen, two with green checkmarks and two with a circle and a line crossing it (indicating it as being 'blocked'). Select the last but one and right click, go to Properties.
Players will see three choices and the blocked connection circle checked/filled in; click on Allow Connection. Repeat for the other connection as well.
Now open the game and load your save.
Make sure the Pip-Boy app is enabled in the settings menu under gameplay. If not then restart the game and load the save again.
Now, connect to the PC in the Pip-Boy app from your iOS/Android device
This will get it working.