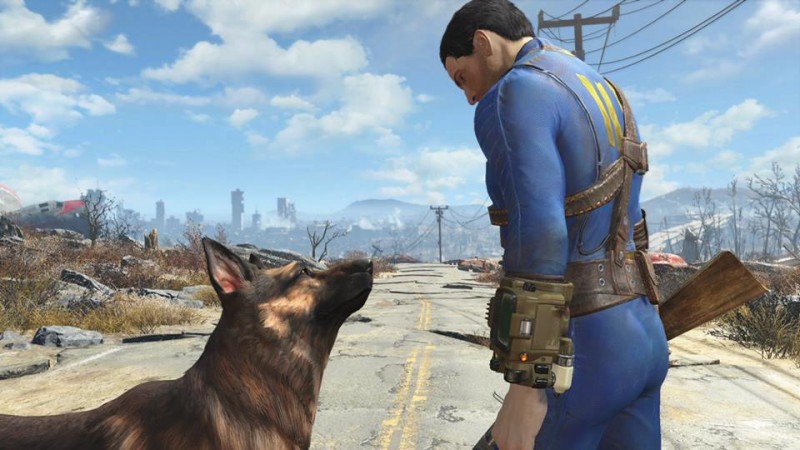 Bethesda's Fallout 4 is one game that fans expect will raise the bar when it comes to the Fallout series. The game has left fans enthused for more, ever since its reveal at the E3 2015 press conference.
Ahead of its release in November 2015, Bethesda has been letting fans know what to expect in the game, and until now no one is complaining.
During the recently concluded Gamescom 2015, the company showcased the upcoming game's gameplay behind closed doors. But someone apparently managed to capture it on video that has now been taken down "due to breach of the Terms of Use."
Thanks to that, we now know some new details from the game. According to Gameranx, the video shows the protagonist's first-person action as he follows his canine companion, Dogmeat. He and Dogmeat are seen dealing with ghouls.
The protagonist is seen heading to a computer terminal and is seen hacking it. This takes players to a hacking minigame and also reveals a lockpicking minigame.
Also, this video shows some of the new features that have been added to Fallout Shelter for iOS and Android.
Delay Explained
Bethesda has explained why it delayed Fallout 4 reveal with its release date some months away.
In an interview with DualShockers, Pete Hines, vice president of Marketing at Bethesda, said that his team believed that this was the right way to go forward with this game. He added that he preferred a shorter promotion campaign in comparison to a longer one. The longer it gets, the more "straining" it is for the development team.
He did not confirm if he will use such short promotion campaigns for a future game from the company due to the uniqueness of every game and situation.
He did assuage fears that fans had about the game being small and assured it will be "really huge" world and it will have content that will span "hundreds and hundreds of hours" of gameplay.
Meanwhile, in another interview with IGN (via Gamerant), Hines revealed that Fallout 4 will have diversified characters featuring new perk system.
He said that players will now be able to raise their strength to 10 points as they can use a specific perk that others might not have access to. They will also be able to select the specials during the start of the campaign for their protagonist.
Previously, Bethesda had announced that Fallout 4 will not be having any level cap. So they can play also as long as they like and can unlock the perks in the game.
Meanwhile, Fallout 4 has won the People's Choice award polled by IGN following the Gamescom 2015.
Fallout 4 will be rolling out on 10 November to PC, PS4 and Xbox One.