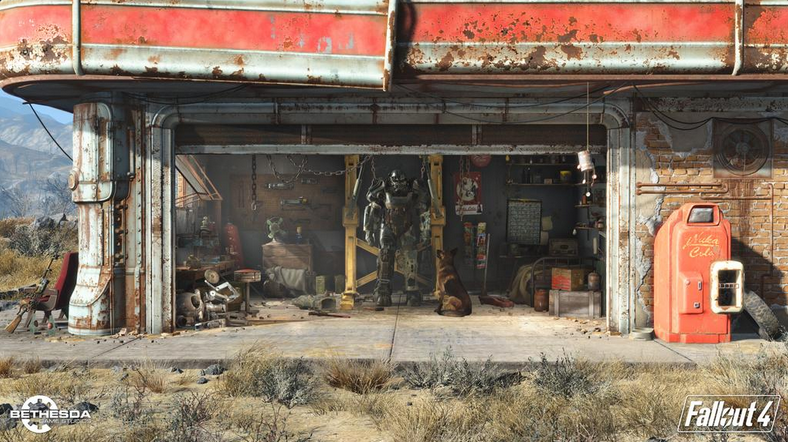 The wait for Fallout 4, the post-apocalyptic RPG video game from Bethesda Softworks has been confirmed.
The three minute odd trailer revealed Boston wasteland as the setting for Fallout 4 story, getting the rumour correct on that one.
The video clip introduces us to a canine companion players can have, drifting between the time before the "nuclear detonation" and after it. The video consists of a song from the Ink Spots that was featured in previous Fallout games too. This particular number was "It's All Over But the Crying." The video introduces players to various aspects of the post-apocalyptic Boston setting including some snapshots of its landmarks all in dilapidated situation.
The video shows some post-apocalyptic landmarks in Boston:
Bunker Hill Monument
USS Constitution
Massachusetts State House
The wait is over. #Fallout4 http://t.co/RzmitCbO0p pic.twitter.com/oPD8ncYjGO

— BethesdaGameStudios (@BethesdaStudios) June 3, 2015
The inset picture reveals blueprint of laser rifle, modern Gatling gun hidden, Ammo Boxes, T-45, Nuka Cola Propaganda poster, Ham radio and Stat boosters.
This reveal comes following a 24 hour countdown timer asking fans to "please stand by" for news. Fallout 4 fans would be euphoric at today's reveal. The last Fallout game was Fallout: New Vegas which got released in 2010.
Fallout 4 will be releasing on PC, PlayStation 4 and Xbox One. The game is currently available for pre-ordering. Presently the pre-order costs $59.99, and has put up a placeholder release date 31 December, 2015.
Bethesda is participating for the first time in the upcoming E3 Showcase 14 June at 7:00pm PT, where the game will be premiered.
(YouTube Courtesy: Bethesda Softworks)