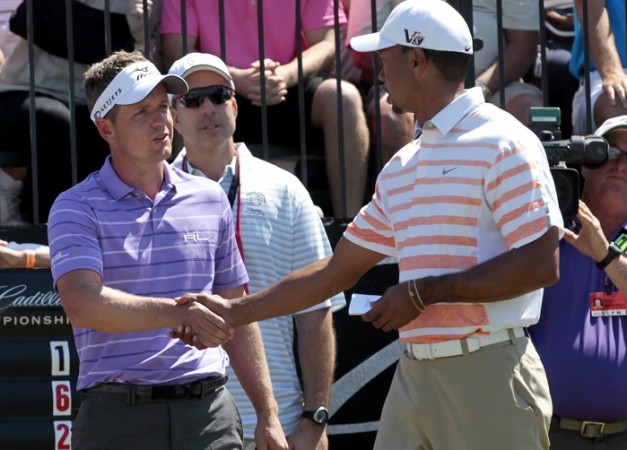 It is the mental aspect that is holding Tiger Woods back from making his much-awaited return rather than physical problems, according to Luke Donald. Scheduled to make a comeback at the Safeway Open this week, Woods announced his decision to prolong his time on the sidelines, saying he is "not yet ready" for a return.
Woods has not played a competitive tournament on the PGA Tour since August of last year, with back injuries keeping him out of action. After a successful term as vice-captain at the Ryder Cup 2016 in Hazeltine, it looked like Woods was ready for a return as originally scheduled, only for the American to put out a statement, saying his comeback would take a little more time.
While recovering from potentially career-threatening injuries can be really difficult, what can make the comeback even more trying is doubt; the doubt that you might not ever be the player you were and the fact that might not be able to compete with the other golfers in the circuit.
That doubt, Donald believes, is what is holding Woods back. "It sounds like clinically he feels fine," Donald was quoted as saying by The Guardian. "He's just not quite ready to tee it up from a mental standpoint perhaps.
"That's certainly what I gathered from his comments. There's a lot of mental anguish when you take time away. I think obviously Tiger's got very high standards and expectations.
"I think that you have to weigh that up with that feel of almost failure or fear or anxiety of not performing well. If Tiger Woods is healthy like he says he is, that's probably what he's weighing out right now, just feeling comfortable.
"It's really hard to get comfortable unless you actually put yourself through it. At some point he's got to jump in, and if he messes up, he's got a good opportunity to get better the next time he plays."
Chris Wood, who was a part of the losing European team at the Ryder Cup, was left disappointed by Woods' latest announcement, because the Englishman was looking forward to watching and competing against the 14-time major winner.
"He seemed fine at the Ryder Cup, but you never know with Tiger," Wood said. "It's really disappointing because I was ready to watch it and it would have been great for the European Tour for him to play in Turkey in his second event back.
"It is really disappointing for myself as a golf fan to not be able to sit down and watch him play, because he was my golfing hero. He won the Masters when I was 10 years old, so from that point on he's the only guy I've ever looked up to really.
"And he doesn't deserve for his career to come to a finish in this way. He deserves to go out in all the style that his records still deserve."
Sir Nick Faldo, who knows a thing or two about winning golf tournaments, believes Woods, 40, might be better off just accepting the fact that injuries and age have caught up with him.
"You wish him well but what does Tiger want to prove? I know personally golf is a wicked game, it dangles a carrot," Faldo told BBC Sport.
"Ten years ago I'd hit balls and think, 'I can still play, I can still hit it', then you'd go to the course and can't make a score.
"Everything is stacking up against him now. Physically, mentally and obviously competing."