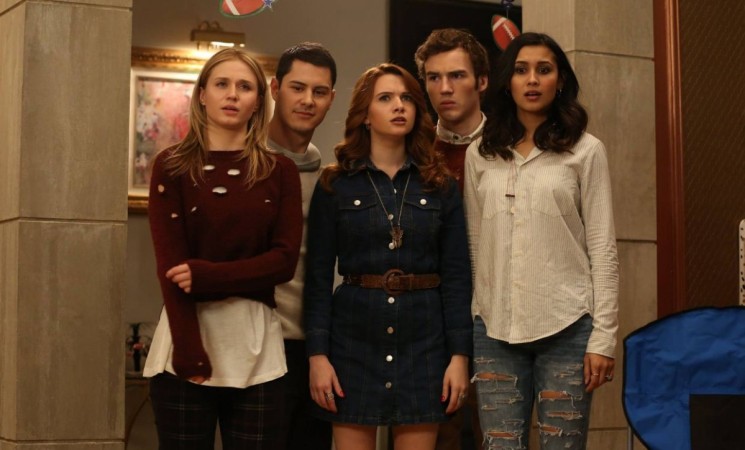 The final episode of Season 3 of MTV's teen comedy drama "Faking It" that has been titled "Up In Flames" has aired and with it, the show bade its final goodbye. Although there were a few cliffhangers that remained after the episode ended, lead characters Karma, Amy, Liam and Shane witnessed a happy ending.
Apart from its comedy and the way several social issues were addressed in it, the most attractive thing about "Faking It" is perhaps its soundtrack. The show featured music from upcoming as well as established artists across genres. So, as we bid goodbye to the TV show and prepare to watch reruns, let's take a look at 10 songs from the show that summarise "Faking It" Season 3 in a nutshell.
"Blackbird" by Fat Freddy's Drop
Featured in the first episode, this song is played in the scene where Amy tells Karma that she no longer has feelings for her and that she has moved on during their summer break. A Latin dance/soul music influenced track, "Blackbird," helps in amplifying the feeling of moving on from something that highlights this scene.
"Tell Me" by Humans
"Tell Me" is a soulful mid-tempo track that sees Canadian duo Humans at their experimental electro-pop best. The song is featured in the second episode, when Liam and Zeta break up during Zeta's improvised Bar Mitzvah. Although it is a mid-tempo track, "Tell Me," aptly conveys the feeling of an end and the uncertainties involved with it, which is the basic essence of this scene.
"Broken Things" by Clairity
Karma, who is dating Dylan, finds out that he is cheating on her in the third episode. With the feeling of pain and disgust engulfing her, she tells him that they are over. And that is when "Broken Things" starts playing. It is a slow-paced emotional song that dwells in the experimental pop space.
"You & I" by Calvin Love
Felix makes a return in Amy's life and discusses a possible future with her after he gets done with his rehabilitation. They discuss the possibilities while sitting on Amy's couch and that is when "You & I" plays in the background. This spacey experimental pop song signifies the sense of possibility in this scene.
"Come Out And Play" by The Sweet Serenades
This indie rock track symbolises the budding romance between Liam and Rachel, Rabbi Josh's daughter, in the fifth episode. It is a melody-oriented track that describes the playful sweet nothings exchanged between the two hopeful lovers.
"New Generation (KX)" by Jonas Rathsman
The Halloween party of episode 6 plays a significant part in taking the plot forward and the dancey and electronic "New Generation (KX)" as the perfect song to give out the an atmosphere of a party in full swing.
"We Keep The Lights Out" by EZA
Shane's feelings for Noah develop considerably in the seventh episode and when Noah expresses his feelings to him, his feelings just explode. "We Keep The Lights Out," with its electro-pop inclinations, symbolises the calm and sensual euphoria that both Shane and Noah experience in this scene.
"Something For Nothing" by Rationale
Rationale's "Something for Nothing" is a foot-tapping mid-tempo track that acts as a love anthem at the same point of time. It conveys both Amy's butterflies-in-my-stomach feeling as she talks to Sabrina at the end of the eighth episode and Karma's confusion as she witness them both with Felix by her side.
"Cloud Nine" by Haelos
Amy and Sabrina's romance goes down the drain as she discovers that Sabrina has a long-distance boyfriend and has lied about being a lesbian since they met. Haelos' shoegazey trip-hop track "Cloud Nine" projects the shock and heartache felt by Amy during the incident but glorifies it at the same point of time with its trippy sound.
"Love Is To Die" by Warpaint
"Love Is To Die" is an art rock/indie rock track that symbolises the beginning of happy endings and the reminiscing of bittersweet memories for the lead characters of "Faking It" in the finale episode. A Sister Bliss remix version of the track is played in the episode to showcase the atmosphere of a party.