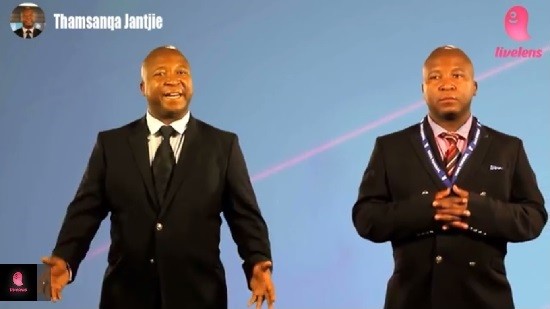 Thamsanqa Jantjie with his antiques certainly ended up becoming an online celebrity, and now an Israeli company, which develops apps for tablets and mobile phones, has featured the fake sign language interpreter for promoting its new live video streamin app.
Jantjie was hired as a sign language interpreter for Barack Obama, during the Nelson Mandela memorial. However, during the course of the speech where Obama paid his respects to Mandela, Jantjie was seen unleashing his own brand of sign language, which were at best ridiculous.
He was severely condemned for his wacky gestures, and the incident sparked much furor. The South African government ordered an inquiry into the matter but nothing really happened. On his part, Jantjie explained that he was schizophrenic and messed up the interpretaion.
Israeli company Livelens, which certainly believes that no publicity is bad publicity, has now roped in the disgraced fake sign language interpreter. The Livelens advertisement posted on YouTube starts with Jantjie introducing himself.
"Hi, I'm Thamsanqa Jantjie, funeral of Nelson Mandela. Believe me, I am a professional interpreter in sign language," he says and, at the same time in parallel, doubled by a female voice, he says in sign language: "I do not speak sign language."
"I'm really, really sorry for what happened," he says appearing all sincere and then continues in parallel sign: "I, celebrity." He then says "Now, I want to apologize to the world," and in sign language adds: "Now I am campaigning for the money."
And while promoting Livelens, he says: "Remember,the most interesting things happen live," and instead of a cut, a camera falls on Jantjie's head and chops it off.
And at the end of this crazy and weird advertisiment, Jantjie throws off his jacket and starts dancing.
The startup was so adamant on taking Jantjie for the ad that it went to the extend of having him released from a South African psychatric hospital for a day to shoot the video.
"We decided that the guy who had the worst live show ever would be the best person," Livelens CEO Max Bluvband told NBC News.
Watch the Video: