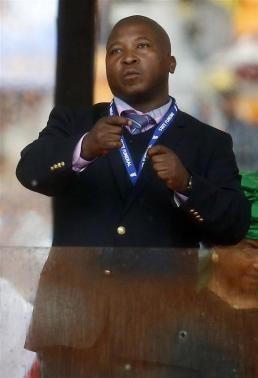 A South African sign language interpreter, who baffled the South African deaf community and the world by his 'fake' gesticulations during the memorial to Nelson Mandela, said he suffered from a schizophrenic episode while on stage that could have led to his gibberish sign language on Tuesday.
The interpreter, identified as 34-year-old Thamsanqa Jantjie, told a South African newspaper that he was actually a "champion" in sign language but he started hearing grotesque voices in his head and began hallucinating, which forced him to make gestures that made no sense to the bewildered and outraged deaf community.
"There was nothing I could do. I was alone in a very dangerous situation. I tried to control myself and not show the world what was going on. I am very sorry. It's the situation I found myself in," he told Johannesburg's Star newspaper.
Jantjie said that his schizophrenia, for which he takes medication, has angered many South Africans and people from across the world who blamed him for being an imposter.
He added that he did not know whether it was the sheer magnitude of his actions or the happiness he felt for being able to interpret speeches made by world leaders that might have triggered the attack while on stage.
"Life is unfair. This illness is unfair. Anyone who doesn't understand this illness will think that I'm just making this up," he said.
Millions of TV viewers saw Jantjie interpreting the statements made by world leaders including President Obama, which was attended by over 80,000 people including more than 90 country leaders on Tuesday. But South Africa's leading deaf association on Wednesday dishonoured him calling him a fake and that he was simply inventing signs.
The incident has stirred a controversy at a somber time when Mandela, one of the most admired leaders of the world and the first black president of South Africa, lies in state after he died on 5 December.