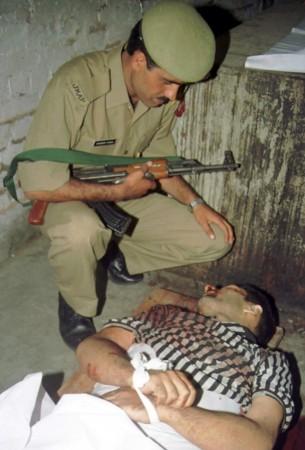 Uttar Pradesh (UP) recorded the highest number of alleged staged shootouts by police, defence and central armed police forces in the country.
In a written reply to the Lok Sabha, Minister of State for Home Jitendra Singh said that of the total number of 194 fake encounter cases registered in 2011-12, UP recorded 42, the highest number of alleged staged shootouts.
He also added that UP was followed by Jharkhand with 20 cases of staged shootouts and Assam with 18.
Since 2009, the National Human Rights Commission (NHRC) has registered 426 cases of staged shootouts.
In 2009-10, 30 cases were registered in Uttar Pradesh and the figure rose to 40 in 2010-11 and 42 in 2011-12. In Manipur, the figure dropped from 32 in 2009-10 to 12 in 2010-11 and to 6 in 2011-12. While Uttar Pradesh has seen an increase in the number of cases, Manipur has witnessed a drastic drop, said a statement by the Home Ministry.
"Against 426 cases, 84 have been solved and the remaining 342 are unsolved. For expediting the unsolved cases, concerted efforts are made by NHRC for obtaining the inquest reports, post-mortem report etc. from the concerned state government," said Jitendra.
For the current year 2012-13, as on 17.4.12, no such case has been registered.
The minister said that as per the Seventh Schedule of the Constitution of India, "Police" and "Public Order" are State Subjects. It is for the State Governments to take action in every crime. The Central Government issues advisories, while the National Human Rights Commission (NHRC) issues guidelines and recommendations to be followed by the States/UTs in all cases of deaths in the course of police action.
Earlier, based on an application filed by Gujarat government the Supreme Court on Friday (date 13) sent notices to central and all state government to deal with all cases of fake encounter in the country.