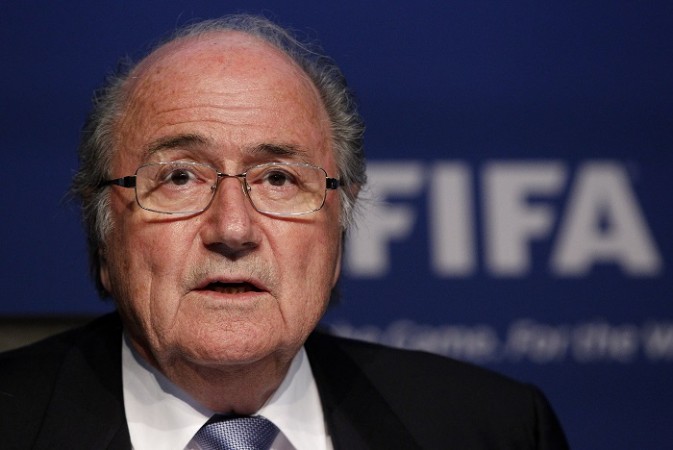 One might have thought that Sepp Blatter's notorious acts were limited to football scandals, but recent revelation by Football Association of Ireland's chief executive John Delaney has also questioned his character.
John Delaney stated that Blatter stared at his partner for seven to eight seconds and said: ''I approve of your new girlfriend."
"He met Emma, my partner, in Vienna recently," said Delaney on The Ray D'Arcy Show."He stared at her for seven or eight seconds and he said, 'I approve of your new girlfriend'.
"I asked him to move on - 'Move on, please.'
"She is a great girl, I love her very much, it was an extraordinary moment. If she was here she would tell you herself. He stared at her and I said 'move on' and he did."
Blatter might have been in the wrong side of things amid corruption scandals, and such staring acts make him stoop even lower.
It was also during his reign as FIFA's president that a number of notorious things shaped up inside FIFA, with bribes ruling the roost. Such scandals have shed a bad light on football.
Delaney had also revealed that the FAI was paid a settlement by FIFA after Thierry Henry's infamous handball six years ago so as to not move forward with any legal action.
FIFA paid FAI $5million (£3.6million) as compensation for the handball incident. The incident occurred during a World Cup play-off second leg in 2009, which saw France progress through.
"We felt we had a legal case against FIFA because of how the World Cup play-off hadn't worked out for us with the Henry handball,' The Daily Mail quoted Delaney as saying.
"Also the way Blatter behaved, if you remember on stage, having a snigger and having a laugh at us. That day when I went in, and I told him how I felt about him, there were some expletives used. We came to an agreement."
Such reports of corruption have been emerging everyday, which has created a bad name for the sport. Gradually, facts about FIFA officials taking bribes related to 1998 and 2010 World Cups have also come out in the open.
With FIFA's corruption scandals, the FIFA 2018 and 2022 World Cup bids are also being scrutinised by the FBI and there have been calls from several quarters stating that the 2022 Qatar World Cup should be scrapped.