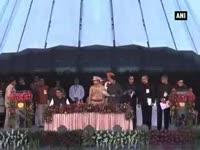 A special three-day session of the Mahararashtra assembly will begin in Mumbai on Nov 10 in which the first BJP government will face a crucial trust vote on Nov 12, a minister said in mumbai on Saturday.
All the 287 newly-elected legislators would be sworn-in and the minority government headed by Chief Minister Devendra Fadnavis will face the confidence vote of the house.
The details of the special session were finalised at a cabinet meeting presided over by Fadnavis on Saturday, cabinet minister Sudhir Mungantiwar told media persons.
According to the schedule, Nov 10-11 will be devoted to the swearing-in of the 287 new members of the 288-strong house. An elected legislator from Nanded died last week.
The following day, Nov 12, a new speaker would be elected followed by the vote of confidence.
"We are confident of passing the floor test," Mungantiwar said.
In the Oct 15 elections, the BJP emerged as the single largest party with 122 legislators plus one from its pre-poll ally, the Rashtriya Samaj Paksha.
BJP legislator Govind Rathod from Nanded died last week, reducing the party's tally to 121 in the house where it requires 145 for a simple majority.
The BJP's 25-year-old ally Shiv Sena with 63 seats has not yet made up its mind whether to join the government or sit in the opposition, though talks were underway between the two parties.
The Nationalist Congress Party, which extended 'unconditional external support', has already announced it will abstain from voting.
With the support of seven independents and some smaller parties, besides the abstention by NCP, Fadnavis is expected to have a smooth sailing in the confidence vote.
After the three-day special session, the government will plan out the winter session of the assembly which is traditionally held in the second capital Nagpur, Fadnavis' home town in Vidarbha in eastern Maharashtra.
The 44-year-old Fadnavis was sworn-in as the chief minister at the Wankhede Stadium Friday, and took charge of his duties on Saturday.