In another attempt to enhance user engagement, Facebook is reportedly building a new chatroom feature code-named 'Host Chat'. After clickable hashtags and the rumoured Facebook Reader, the social networking site is trying hard to maintain its global presence.
The Mark Zuckerberg-owned company confirmed to TechCrunch that it is currently testing the latest feature, but did not go into the details. "We do test things from time to time with a small percentage of user," the company said.
Host Chat might end up like old chat rooms of Yahoo Messenger and AOL. There will be a Host Chat button on the status bar, which when clicked will start a chatroom by the host user. The host can customise settings to allow other users join in the chatroom. A special feature is that any of the host's friends can join without an invitation and will receive notifications about the host chat in their newsfeed initially. The host will be able to custom privacy settings for restricting it to some group.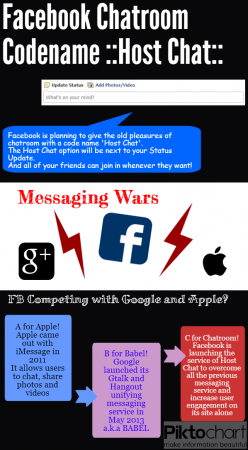 The Tech Crunch report hints that this new feature is in response to the ongoing 'messaging war' among Apple's iMessage and Google's recent unified messaging system for its Hangouts and Facebook.
The downside to this rumoured feature is that it only supports text as of now. Also, the 'privacy implications will prove too complicated' which could cause the feature to shut down or fail to attract a wider audience like the Facebook video chat option.