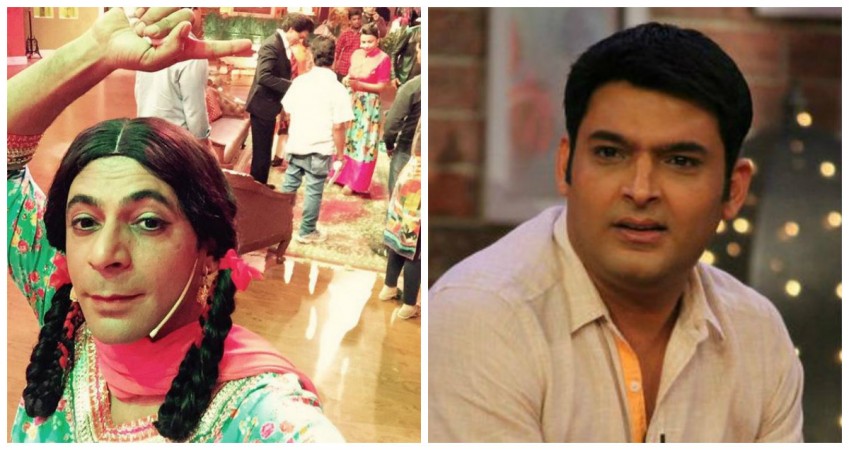 After "Comedy Nights With Kapil" went off air, it was reported that Kapil Sharma and Sunil Grover would come back with a new show titled "Comedy Style." However, it has now come to light that the news wasn't true as it was posted from a fake Facebook account.
The message was posted from a fake account in the name of Sunil Grover aka "Gutthi" of "Comedy Nights With Kapil." The post said, "Comedy Style=Kapil Sharma & Sunil Grover soon." After this post, several news websites reported that Kapil and Sunil will soon be seen on a new show titled "Comedy Style." However, that Facebook page was a fake one and Sunil took to Twitter, asking fans to ignore the post.
"Somebody who is right now jobless like me, posting from a fake Facebook account. Kindly ignore. My original page is verified by Facebook (sic)," he tweeted. What made fans more excited is a tweet from Sunil a couple of days ago which said, "I want to wear make up soon. See you soon. Before monsoon. (sic)"
Although Sunil's "see you soon" tweet hints that the comedian is likely to be back on TV, there is no confirmation on that. While Krushna Abhishek's "Comedy Nights Live" has replaced "Comedy Nights With Kapil" on Colors TV, there were also reports that Kapil Sharma will join hands with Sony TV for a new show. Ever since Kapil's popular show went off air, there has been much speculation on his upcoming show, if any, and its probable cast.
Citing the reason for wrapping up his show, Kapil had earlier said that he was not happy about the same stars appearing on "Comedy Nights With Kapil" as well as "Comedy Nights Bachao" of the same channel.
"We have been successfully entertaining the audience for the past three years with our content. But when our show became a habit for the viewers, they introduced another one on similar lines. Celebrities who readily agreed to come on our show were told that they will have to make an appearance on the other show as well," Kapil had told The Times of India earlier.
"I understand the pressure on the channel to work towards making their shows a hit, but not at the cost of sabotaging an established one. It's perfectly fine to launch new shows, but two programmes should not have similar content and celebrities. I have great respect for people heading the channel. However, I don't want to be part of the crowd and hence, I decided to wrap up the show," he added.