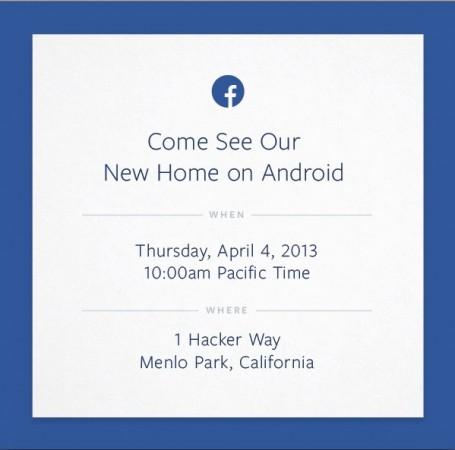 Facebook left room for speculations by sending out media invites that read - Come See Our New Home on Android - without providing any detail about the event.
The most popular social networking site is tight-lipped about the event to be held at its Menlo Park headquarters on Thursday but people have drawn their own conclusions based on its "Come See Our New Home on Android" invitation.
It could be a Facebook app exclusively for Android, or even a Facebook phone as speculated by many in the past. Guess work will continue till we have a look at what the social network has in store.
As you anxiously wait for the event to begin, we take you down the lane and bring you the rumours on Facebook phone.
It all begun in 2008 when mobile phone maker Inq revealed an entry-level smartphone, INQ1, which was known as the "Facebook phone" for its integration with the social network. Mark Zuckerberg expressed his happiness on the development but didn't endorse it officially.
Rumours of Facebook phone resurfaced a few years later, which Zuckerberg denied categorically, saying that the company would not get into phone business.
It was reported in 2011 that Facebook would collaborate with HTC to come up with a new phone but it turned out to be just another rumour. The INQ unveiled its social networking handset INQ Cloud Touch, and HTC came up with HTC 'Buffy', which boasted of deep Facebook integration, but both were not official Facebook phones.
Rumours broke out again in 2012 after a reputed newspaper reported that recruiters are planning to rope in Apple engineers to work for a Facebook smartphone, but Zuckerberg denied it.
Speculations on Facebook phone took a new turn in March, 2013 with websites publishing the alleged specification of the phone. The media invite for an event on 4 April added more fuel to the fire.
Nobody is sure what Facebook would show the world on Thursday. It's all guess work till the event happens.
What to Expect from Thursday's Event!
1) Facebook Home: It could be a facebook app exclusively for Android. The new software would help one to replace homescreen with Facebook content and features, which will not only help users have easy access to Facebook-centric functions like Facebook Messenger and the Facebook camera but also other apps like Google play, telephone, web browser, text messaging etc available on android phones.
It is speculated that the new app could be a modified version of Android operating system with Facebook services built in and installed on HTC mobile phones. It should be something similar to what Amazon did for the Kindle Fire with the operating system.
2) Facebook Phone: There were speculations and rumours doing the rounds that Facebook would come up with a phone despite its founder Mark Zuckerberg's clarification that it is not interested.
However, the "Come See Our New Home on Android" invite has sparked off yet another rumour that Facebook is coming up with a phone. Some websites even went to the extent of describing the look of the so called "Facebook phone", saying that it would resemble Apple's iPhone. They say that it will be HTC/Facebook collaboration.
Rumour mill will run amok till Facebook unveil its new offering on Thursday, but for now, app exclusively for Android sounds business as Facebook phone is unlikely to make any difference with big tech giants like Apple and Samsung around.
Some Guesstimates
"Although Facebook founder Mark Zuckerberg has always indicated - as recently as a few months ago - that a phone has "always been the wrong strategy" for Facebook, it looks like a phone may be just what we'll see the company announce on Thursday," wrote Emily Price of Mashable. "That "Facebook Phone" announcement, however, may not be what you think."
"Sources tell us it will be a modified version of the Android operating system with deep native Facebook functionality on the homescreen that may live on an HTC handset," Josh Constine of TechCrunch wrote.
"This announcement might not be a Facebook Phone, but rather a Facebook phone - one where everything the user sees is social by design, even if the handset's innards are made by someone else," he added.
Dieter Bohn of The Verge wrote that Facebook would announce a new software for Android called "Facebook Home" and a "mid-range phone built by HTC that will showcase the software" at the event.
But he said Facebook can't survive if it gets into phone business.
"Facebook can't win, place, or even show in the smartphone marketshare horse race. Instead of putting its own horse on the track, it's putting a jockey on a winner: Android," wrote Bohn.