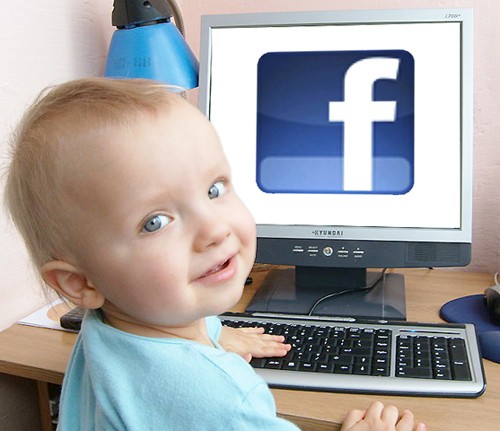 In a fresh bid to give a push to its struggling revenue and increase the fan base, facebook is contemplating to lift the ban on under 13s joining the social networking site.
According to reports, an average of 7.5 million of under 13 children are already on Facebook, providing wrong details to get past the sign-up process and in them majority have their parent's consent in accessing social networking sites.
Since, millions of preteens are already actively engaged in facebook by faking information about their age, the online major is of the opinion to lift the age restrictions and make it available to them, with certain guidelines.
Meanwhile, parents and parenting experts have been seriously debating on allowing children to access social networking sites, as they are worried about their safety in an online environment.
The Children's Online Privacy Protection Act (COPPA) doesn't permit the online company to collect information about the children, who are under 13, without their parents' consent.
"COPPA- prohibits unfair or deceptive acts or practices in connection with the collection, use, or disclosure of personally identifiable information from and about children on the Internet. The law spells out what a web site operator must include in a privacy policy, when and how to seek verifiable consent from a parent and what responsibilities an operator has to protect children's privacy and safety online."
Facebook officials are working out ways to counter this age restriction law, while making the internet as a safe place for the youngsters. The company is reportedly planning to allow under 13 users to have an account on the social network, provided they give genuine details as well as their parents oversee the activities of their children on the networking site.
Preteen accounts will be associated with their parents and the control of the their accounts will be given to mothers and fathers, so that they can limit their children's activity on the site, such as adding friends on the site, using apps and other activities as well.
Facebook officials have been considering this option for a long time now. However, they might be serious this time around in order to increase the revenue and stay afloat in the surging competition.
Facebook has been struggling to make money from the growing mobile audience. The advent of smartphone has let the people to access the cyberspace through their hand phones, which is most preferred in today's time, even among facebook users.
Facebook's revenue comes from advertisements on its page, but the photo-sharing social website runs limited ads on its mobile page. The increase in mobile audience has thus affected facebook's revenue from ads.
Adding to its woes, facebook's much-augmented stock market debut turned out to be a big fizzle, as it didn't live up to its pre-launch expectations, which ended the first full week of trade with a loss of 16 percent from its offering price of $38.
In order to overcome all the monetary challenges, facebook has been testing several ways to boost the revenue, including launching of app store and reportedly working to introduce its own smartphone.