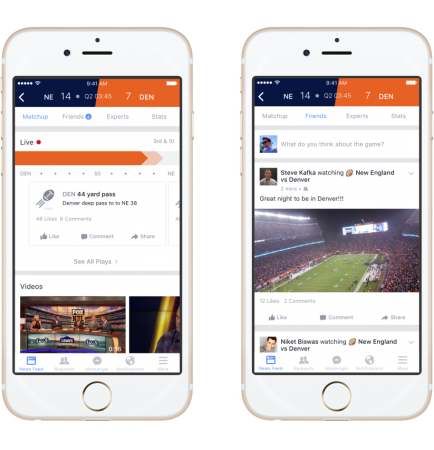 Facebook introduced a new platform for sports on Wednesday that brings real-time scores, commentary from experts and posts from friends all at one place. Facebook Sports Stadium, as it is called, brings sports fans and friends together while enjoying their favourite games on the world's biggest social networking platform.
Facebook, which is used by an average 1.01 billion users every day, is looking to make the game watching experience for 650 million sports fans on its network more fun. The social networking platform currently supports American football games on iPhone in the US. It will add other sports from around the world soon and support other platforms such as Android in the coming weeks.
"You can follow the action as the game unfolds with a live play-by-play, and even like, comment on, and share individual plays. You can also get up to speed quickly with live scores and the most-discussed plays. It's a second-screen experience that we hope makes watching the broadcast even better," Facebook Product Manager Steve Kafka wrote in an official post on the company's website.
With Facebook Sports Stadium, all content related to a game appears chronologically in one place in real time. The California-based social networking company listed a few key features of Sports Stadium, which include:
Posts from your friends, and their comments on plays
Posts and commentary from experts, like teams, leagues and journalists, with easy access to their Pages
Live scores, stats and a play-by-play
Game info, like where to find the game on TV
Facebook's Sports Stadium is still in its infancy, and Twitter is still the go-to place for fans to tweet and discuss about their favourite ongoing games. The popular micro-blogging site already covers a lot of games, ranging from football to cricket and basketball to tennis.