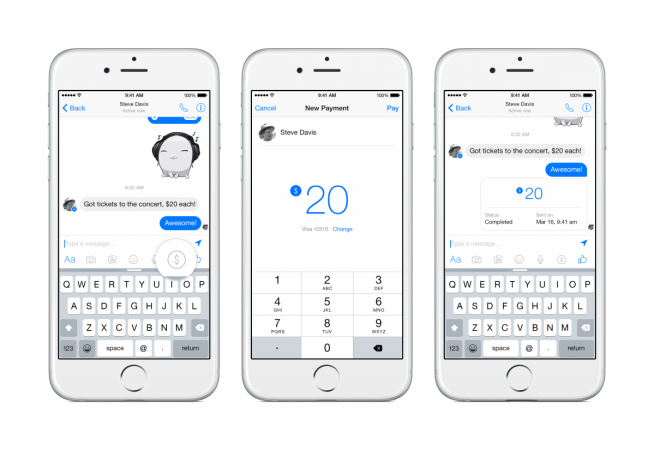 Facebook is making its Messenger app more useful than ever. The popular instant messenger for the world's largest social networking site now supports money transfer between friends in a simple manner. The feature will be made available to users in the US in the coming months, allowing instant money transfer free of cost.
By undertaking financial transactions and storing users' card details, Facebook has a huge responsibility at hand. To ensure the safety of its users, Facebook uses high-standard security measures to process payments as well as protect the card information stored on its servers. Currently, users can only send and receive money using their Visa or MasterCard debit cards issued by a US bank.
"We use secure systems that encrypt the connection between you and Facebook as well as your card information when you ask us to store it for you," Facebook said in a company blog post. "We use layers of software and hardware protection that meet the highest industry standards. These payment systems are kept in a secured environment that is separate from other parts of the Facebook network and that receive additional monitoring and control."
To further take control of the payments, users can add a security pin every time a transaction is processed. If you are using Apple iPhone 6, iPhone 6 Plus or iPhone 5S, the Touch ID sensor can be used as a PIN to initiate a transfer. The money transfer option will be available on Android, iOS as well as desktops.
How to Send and Receive Money via Facebook Messenger?
Send Money via Messenger
Open Messenger app and start a message with a friend you wish to send money.
Tap "$" icon
Enter the amount you wish to transfer.
Tap on Pay in the top right corner.
Enter your debut card information to initiate the transfer.
Receive Money via Messenger
Tap open the message you received from your friend
Tap "Add Card" in the message
Enter the debit card details on which you wish to receive the money.
Entering debit card details is required only for first-time use. Once the details are stored, users can skip the final step and continue with the money transfer. While the money is transferred immediately, it takes the usual turnaround time for the money to reflect in your account, which entirely depends on the bank.
Facebook did not reveal if the money transfer facility will be available to users outside the United States but the company is known to test new features with a limited audience before a global roll-out.