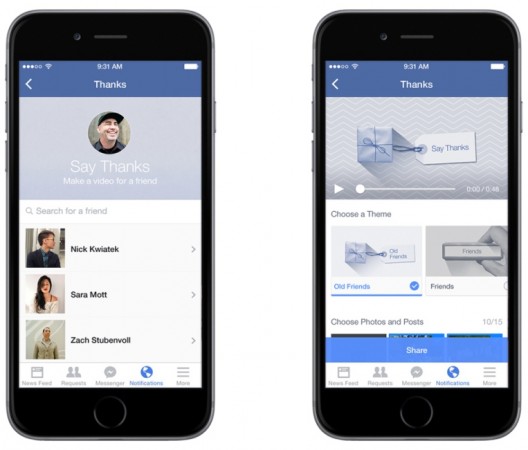 Facebook, the world's largest social networking site, clearly knows how to make an occasion memorable with small things like creating "Look Back" videos back in February to celebrate its tenth anniversary. Building on a similar idea, the social networking giant introduced a new "Say Thanks" tool that helps users express gratitude to their close friends in a short video message.
The timing is perfect given Thanksgiving is arriving this month end and what better way to thank your friends than by sharing old memories in a beautifully crafted video.
"Millions of people use Facebook every day to connect with the people and things that matter to them most. Your friends are at the core of your Facebook experience, and we are always looking for new ways to help you celebrate those friendships," Cameron Ewing, Design Manager and Nick Kwiatek, Engineering Manager at Facebook, wrote in the company's blog on Wednesday. "Today we're excited to announce Say Thanks, an experience that lets you create personalized video cards for your friends on Facebook."
How does it work?
Creating a "Say Thanks" video is extremely simple. Users need to select the desired photos that will appear in the video and Facebook will automatically arrange them to form a 1 minute or a 45 seconds video message. Facebook gives two themes for the video, "old friends" and "friends."
For "old friends", Facebook gives an option to select up to 15 photos that will be used in the video. Users can also upload new photos if the pre-selected ones are not satisfying.
Under the "friends" theme, users can select only seven photos and the video lasts for 45 seconds with a "Thank You" message. The video with "old friends" theme lasts for one minute.
Once the video is created, users can share it and the video will appear on the friend's timeline. The service is available on both PC and mobile in English, French, German, Indonesian, Italian, Portuguese, Spanish and Turkish.
Try the tool here to make your Say Thanks video and share it with your friends. There is no limit on how many videos you can create. So be prepared to see your feeds fill up with such videos over the coming days and weeks.