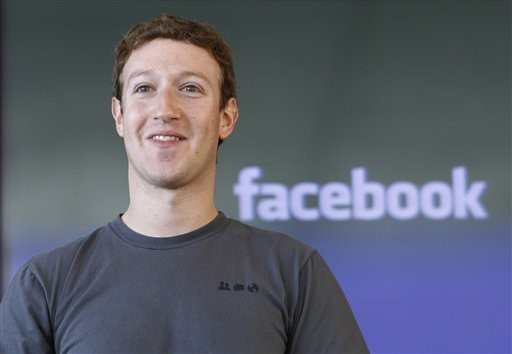 Social networking giant Facebook on Monday completed its ninth year since its inception.
The company, which made a humble beginning from a dorm room in Harvard University (USA), has now grown into a giant ecosystem covering almost every corner of the globe.
Currently, Facebook has accumulated more than one billion users and continues to add more new fans into its fold.
Before Facebook made its debut, its founder Mark Zuckerberg had first created 'Facesmash' in his sophomore year (September, 2003). The website basically compared two individual's hotness (attractiveness) based on an online poll 'hot or not'. To accumulate student's photos, Zuckerberg hacked the university's computer network to copy the house's private ID images of students.
Within four hours of its online debut, Facesmash attracted 450 visitors and 22,000 photo views, but the website was shut down few days later by the Harvard Administration.
Then in January 2004, Mark Zuckerberg began writing the code for a 'new' social network. Within few weeks, Zuckerberg finished coding and simultaneously launched his website 'thefacebook' on Feb 4. It was later rechristened to just 'Facebook'.
The social network was initially restricted to Harvard College, and later Zuckerberg planned to expand it with the help of his college mates Eduardo Saverin, Dustin Moskovitz, Andrew McCollum and Chris Hughes.
By March 2004, the social network had spread into prestigious Ivy League colleges MIT, Stanford, Yale, New York University and other colleges of the US and Canada. The network crossed oceans to reach Europe's prestigious colleges as well.
In its nine-year journey, the social network has grown into a huge juggernaut with over one billion users spread over six continents.
Controversy:
Despite its fairy tale beginning, Facebook had its share of controversies as well. Within six days of 'thefacebook' launch, Zuckerberg was accused by his seniors Cameron Winkerlevoss, Tyler Winklevoss and Divya Narendra of misleading them to build their social network HarvardConnection.com and then stealing their idea to build his 'Facebook' website.
Later in 2008, San Jose Federal District Court judgment forced all three seniors to settle an agreement with Zuckerberg for an undisclosed amount.
Facebook: A Public Company
In February 2012, Facebook became a public company after it filed for the IPO (Initial Public Offering) in the US stock exchange. Facebook priced its IPO at $38 per share, giving the company a valuation of $104 billion - the largest valuation for a new public company to date.
Facebook's Alternate Plans to Generate Revenue
Facebook has generated most of its revenue by posting advertisements on its website, but it is now looking to find newer avenues to generate income.
Facebook in its attempt to stay above of its rivals such as Twitter, Google+ and other social websites has been on a buying spree. The company bought popular photo sharing app Instagram for $1 billion, and rumours were afloat that there were talks with messaging service WhatsApp for a takeover.
Many believe that Facebook's huge cash reserves will push the company to take risks in new business ventures.
Few weeks ago, Facebook launched its in-house built search engine 'Graph Search' to directly compete with internet giant Google.
Speculations are also rife that Facebook might enter smartphone business by bring in its own mobile OS and phones in the near future.