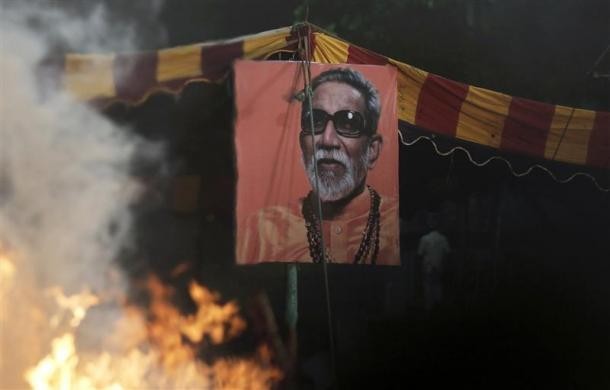 Shiv Sena called for a bandh in Palghar, Maharashtra, on Wednesday, bringing lives of people to a standstill. The bandh is in protest against the suspension of two police officers for arresting two girls who had questioned, in their Facebook post, the shutdown in Mumbai after the death of Shiv Sena chief Bal Thackeray.
The Maharashtra government on Tuesday suspended Thane rural SP Ravindra Sengaonkar and Sub-Inspector Shreekant Pingle for arresting the two girls, overlooking the orders of the IG of Konkan zone.
However, the Shiv Sena is protesting the decision of the state government by calling a bandh in Palghar, forcing educational institutions and business establishments in the town to shut down.
"We are observing the bandh to protest against the suspension of the policemen in the case," Sudhir Tamore, Shiv Sena's head in Palghar, told NDTV.
"The police acted as per the prevailing situation. Even the girls do not have any complaint against the police," added Eknath Shinde, Shiv Sena MLA from Thane.
The state government ordered the suspension of SP Ravindra Sengaonkar and Shreekant Pingle and warned Additional SP Sangram Nishandar in writing for dereliction of duty after the Bombay High Court transferred judicial magistrate Ramchandra Bagade from Palghar to Jalgaon for sending the girls to judicial custody and later granting them bail on ₹15,000 bond each.
The Mumbai had police arrested 21-year-old Shaheen Dhada and 20-year-old Renu Srinivasan on November 19 - one for posting a comment on her Facebook page questioning the shutdown of Mumbai city and the other one for liking the post - after a Shiv Sena leader filed an FIR against them, inviting huge uproar from the public for shunting Freedom of Speech.
The city police initially booked the girls under Section 295(A) of the Indian Penal Code for hurting religious sentiments and under Section 66(A) of the Information Technology Act but withdrew Section 295(A) after investigation. The girls were later granted bail by a local court on a bond each of ₹15,000.
Angry Shiv Sainiks had ransacked an orthopaedic hospital run by Shaheen Dhada's uncle. The police arrested nine people for vandalising the hospital.
Shaheen Dhada's post on her Facebook page that led to the altercation read:
"Just due to one politician died a natural death, everyone just goes bonkers. They should know, we are resilient by force, not by choice. When was the last time, did anyone showed some respect or even a two-minute silence for Shaheed Bhagat Singh, Azad, Sukhdev or any of the people because of whom we are free-living Indians? Respect is earned, given, and definitely not forced. Today, Mumbai shuts down due to fear, not due to respect."