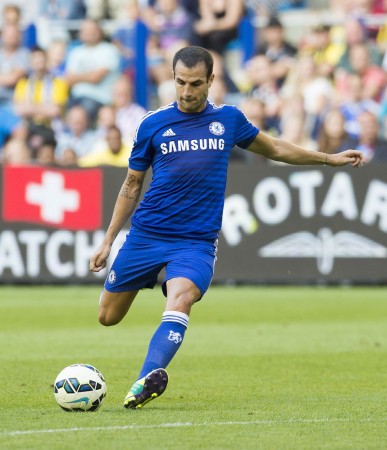 Cesc Fabregas has asked Arsenal fans to "move on" and respect his decision to join Chelsea.
The Spanish midfielder, who left the Gunners to join boyhood club Barcelona back in 2011, completed a £30m switch to Chelsea this summer, after Arsene Wenger decided not to exercise the club's buy-back option on the 27-year-old.
And now, Fabregas, who was criticised by some sections of the Gunners faithful for joining London rivals Chelsea, insists that he had no option but to join the Blues when Arsenal decided not to re-sign him this summer.
"Changing clubs is part of the game and people must remember it was Arsenal who didn't take up the buy-back option for me," he told ESPN. "What am I going to do - retire? No way.
"Arsenal had the first option - it was written in the contract - and so they could have said 'yes' but they decided not to. They told me now [Mesut] Ozil was there, there was no need for me.
"I can understand some people at Arsenal are sad, some people are upset, some people are even angry. But I have to look after myself. I had to make a decision. I wanted to keep playing football, enjoying myself and my career and I felt that joining Chelsea was the best option for me."
Fabregas feels he would have been criticised by the Arsenal fans no matter which big Premier League club he had joined this summer.
"There would have been a reaction wherever I had gone. If I had moved to Manchester United they would say, 'He's gone to a club that have been our big rivals for such a long time.' If it had been Manchester City they would have complained, too.
"Any team I would have gone to, apart from Arsenal, it would have been bad to them."
Fabregas was further criticised by Arsenal fans when he patted the Chelsea crest on his shirt (like he used to do when he was at Arsenal), after scoring against Schalke in the Champions League on Wednesday.
However, the player defended himself saying that he was just patting his chest.
"I was actually patting my chest, but it doesn't matter. This is the club I'm at and I will do everything for this team. That's my job."
The Spaniard also insists that his feelings for Arsenal have not changed, despite signing for Chelsea.
"I would never intentionally do anything to create any problem with Arsenal or any other club. They can say to me whatever they want now, they can dislike me, they can hate me - but nothing will change my feelings for the club.
"I used to watch all the games even after I left. I still have friends there, I always supported them and I have a really good connection with Arsenal."