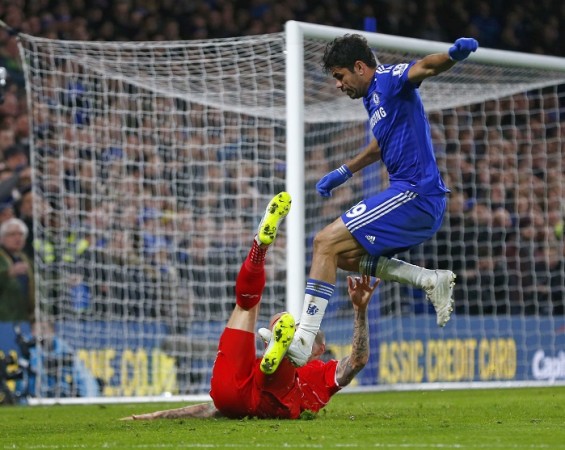 The FA (Football Association) are reportedly waiting for referee Michael Oliver's report to determine whether Chelsea striker Diego Costa should be charged with violent conduct for two apparent stamps during Chelsea's 1-0 win against Liverpool in the second leg semi-finals of the Capital One Cup.
Liverpool accused the 25-year-old striker of stamping on Emre Can and Martin Skrtel in the first and second half respectively.
Although Chelsea boss Jose Mourinho has insisted that both stamps were "absolutely accidental", the FA will reportedly be looking into the matter.
The English football governing committee will reportedly be asking Oliver, who was refereeing the match, whether he or any of the match officials saw the two incidents in question during the game.
If they say that they did not witness the two apparent stamps, then they will be asked to watch video replays and judge whether the offence was worthy of a straight red card.
Costa will be charged by the FA for violent conduct if any of the officials feel that either of incidents was a red-card offence.
If found guilty, the Spain striker will be suspended for a minimum of three games, meaning he would not be available during Chelsea's crucial Premier League fixture against Manchester City.
Meanwhile, Mourinho blasted Sky Sports pundit Jamie Redknapp after the latter criticised Costa for his conduct during Chelsea's League Cup win over Liverpool.
The former Liverpool midfielder had stated that Costa was "bang out of order" and both the incidents deserved a "blatant red card".
However, Mourinho defended the Brazil-born striker, insisting that a "certain" television pundit in England was going out of his way to point out Costa's "crimes".
"I don't know what you understand by stamp," Mourinho told ESPN. "I think maybe you are already influenced by... I'm going to use a word which put me in trouble, but I think this time I cannot be punished to say that there is a campaign on the television with a certain pundit that is saying Diego Costa 'crimes'. This guy must be nuts."
"I saw the incidents. About the penalty, I don't speak. I prefer not to speak. If I comment I will be in trouble and I don't want to be."