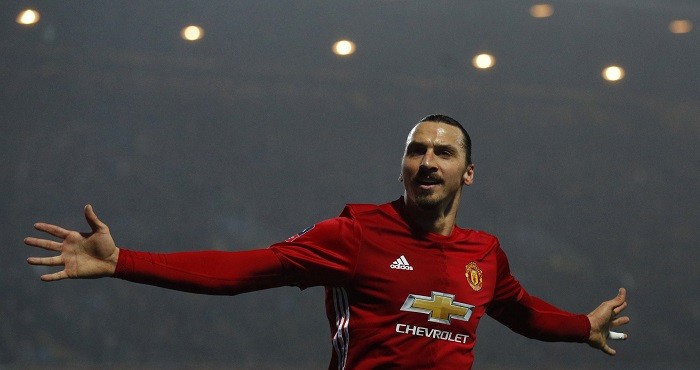 With the game level at 1-1 and Jose Mourinho desperate to avoid a replay at all costs, the Manchester United manager brought on his two big guns – Zlatan Ibrahimovic and Paul Pogba. That plan worked like a dream, with the two combining to send Manchester United into the quarterfinals of the FA Cup at the expense of Blackburn Rovers.
FA Cup results from Saturday's matches
A tricky fifth round tie at Ewood Park got trickier when Danny Graham opened the scoring for Blackburn in just the 17th minute.
Marcus Rashford, though, brought Manchester United level with a strike in the 27th minute, but it needed Ibrahimovic and Pogba's entrance for the away side to find the winner.
That came on 75 minutes, when Ibrahimovic took on Pogba's long pass before producing a perfect finish into the bottom corner.
The win means, Manchester United will now travel to Mourinho's former club Chelsea in the last eight of the FA Cup.
"When I have really important players on the bench then I can try to make an impact," Mourinho said of Pogba and Ibrahimovic. "Sometimes it doesn't work, but it depends also on their mentality.
"Of course I spoke to Paul and Zlatan at halftime. In the moment of need they were more than ready to come with the right attitude for the team. So I am happy with the victory. We deserved to win.
"Blackburn probably deserved to go to Old Trafford but this way is better for them as now they can focus on a very difficult Championship."
Owen Coyle, the Blackburn manager, was left to bemoan the fact that they allowed a simple long ball over the top to create the opening for Manchester United to find the winner. However, the manager was proud of the performance from his team, even if he wishes his players would have taken some of the chances that came their way, particularly when the game was locked up at 1-1.
"We were a credit to ourselves to ourselves, with the way we went about it," Coyle told Radio Rovers. "Our energy, the quality of our passing, the first goal was fit for any stage in world football it was such a fantastic team goal. And we created opportunities throughout the game.
"It was very good play from us against the quality that they have and the speed that they play with such great technical ability. At 1-1 the game could have gone either way, we looked very dangerous on the counter-attack, and I don't recall Jason Steele having too many saves to make in the game."