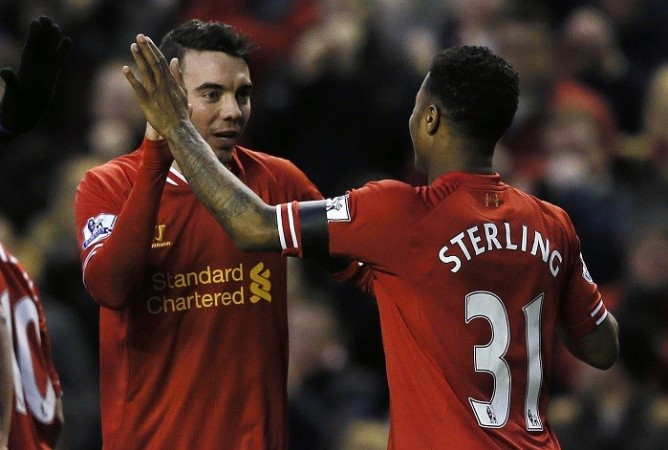 Iago Aspas scored his first competitive goal in a Liverpool shirt, as the Reds gained a measure of revenge with a 2-0 victory over Oldham Athletic in the FA Cup third round at Anfield.
Oldham had stunned Liverpool in the previous season in the same famous tournament, and a similar result looked like a possibility after the League One side held Liverpool goalless at halftime.
However, Aspas, who has had a difficult time since making his move to Liverpool from Celta Vigo in the summer, opened the scoring for his side in the 55th minute, volleying into the far corner off a cross from Raheem Sterling.
Sterling would then induce a deflected own goal from James Trakowski late on as Liverpool secured progress into the fourth round where they will meet the winner between Bournemouth and Burton Albion.
"The goal was important for Iago's confidence. It has been difficult for him," Rodgers said after the match. "You've got a world-class striker [Luis Suarez] playing week-in, week-out, getting goals, and then you've got Daniel Sturridge supporting.
"So he's been the cover player a lot of this season, apart from the opening period. It was good for him to get his goal in front of the Kop and hopefully that will give him a lot of confidence.
"[The whole squad] has to contribute. You can't rely on 11 or 12 players. Brad Jones coming in was excellent -- he has been a really loyal No.2. He didn't have much to do, but in what he did do his hands were clean and his distribution was very good."
Rodgers, not really looking forward to a replay, changed things at halftime, bringing on Brazilian duo Lucas Leiva and Philippe Coutinho, and the replacements seemed to have an effect, with Liverpool finally getting the requite goals to go past a stubborn opponent, even if the manager would have preferred to keep his first-choice players on the bench.
"We needed to be better," Rodgers said. "We needed to have more speed in our game and have a bit more intensity to our game. You don't want to do it, but the last thing I wanted was the game to go to a replay.
"You hope in a game like this to rest a number of players and give them that recovery period. Lucas and young Coutinho, and a few others, have played hard games all over the Christmas period. The ideal scenario was to let them recover, but we also wanted to win the game.
"We didn't want a replay, we wanted to get through into the next round. The second half was better, we were more lively in our game and ended up with a good victory.
"I think you learn as a manger as you get more experience - you can't wait for it to happen. You've got to create it and sometimes you have to change the momentum. And with Coutinho and Lucas coming on, we had that bit of intensity and purpose to our game. That allowed us to get better control."
Even if he was sitting in the opposing dugout, Rodgers could not feel anything but pride as he saw his son Anton come onto the pitch in the 82nd minute as a replacement for David Mellor.
"It was brilliant. I've seen Anton's life from when he was young. To see him run out there was a bit surreal, really. He's a great kid and we're very proud of him as his mother and father," the Liverpool manager added.
"He's having a career and Oldham is a brilliant club for him. They really look after him well. They have an outstanding young manager, who will go on and do very well in the game and they have a young team there.
"They've got a great spirit. I've seen them a number of times and Anton is playing a part in that. It was a great moment for his career and as a father it's even more special that he gets a nice round of applause from the Liverpool supporters as well."