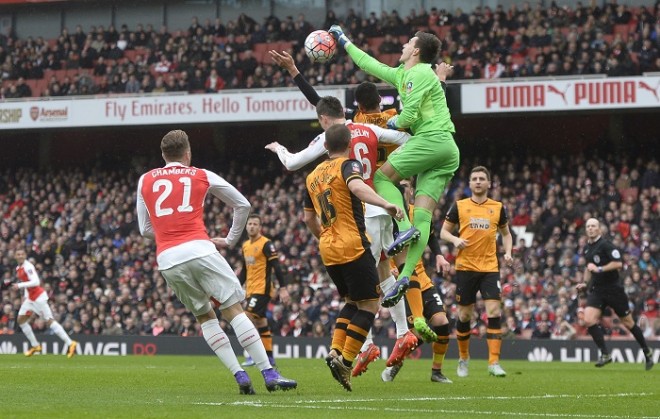 Arsenal huffed and puffed, and huffed and puffed and huffed and puffed some more, but that Hull City house would just not blow down, leaving Arsene Wenger to contend with the one thing he did not want – an FA Cup replay.
From minute one to minute 90, there was only one pattern of play – Arsenal holding possession in Hull's half as the visiting side's defence, all 10 of them with the goalkeeper at the back, holding fort. Hull had conceded just four goals in their last 11 games coming into this match for a reason, and they frustrated this Arsenal side, who it must be said, have struggled to score goals consistently all season.
This time, it wasn't for the want of trying, though, but when Arsenal did beat Hull's back-10, there was the goalkeeper Eldin Jakupovic, making save after save after save.
Arsenal had 23 shots on goal in the match, with 10 of them on target, but Hull somehow held on. That Mike Dean curse has not lifted for Arsenal, who will question a couple of penalty decisions that did not go their way.
In the early part of the match, Mohamed Elneny, given another FA Cup start, saw his shot deflect off Alex Bruce, outstanding at the back, and go wide, with replays showing clearly it had struck the defender's hand. However, Dean did not see it or deem it as handball, leaving Arsenal wondering if it would be one of those days.
That was confirmed when another penalty shout was turned down by Dean, when Calum Chambers was clearly brought down from behind by David Meyler.
Hull also had a reason to be aggrieved as Laurent Koscielny escaped a second yellow card around the hour mark, for a late tackle, but this match was one that Arsenal will know they should have won comfortably.
Jakupovic pulled off one save after another, with the two brilliant ones coming in the second half. First was to deny Joel Campbell a goal off a freekick, with Jakupovic, going the wrong way, somehow getting his fingertips to the ball to turn it onto the post. Next, Danny Welbeck tested the keeper as his swerving drive, via a deflection, forced the goalkeeper to produce a smashing save.
Hull might have won it with four minutes to go, but Sone Aluko fired his shot from seven yards straight at David Ospina, with Arsenal then missing a good opportunity in the final kick of the game.