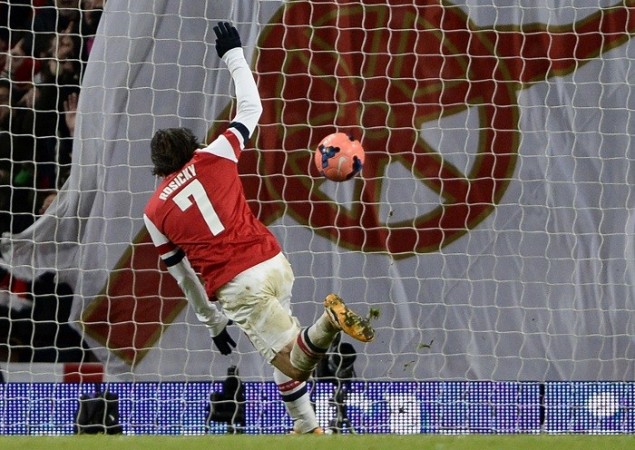 A wallop with the left foot, and a symphonic chip with the right and Arsenal glided their way to North London Derby glory over Tottenham in an enthralling FA Cup third round encounter at the Emirates.
Santi Cazorla first put his left foot to good use, whistling one past Hugo Lloris into the back of the net, before that wonderful little playmaker that goes by the name of Tomas Rosicky applied a finish of the highest order to give Arsenal a convincing 2-0 victory over their biggest rivals.
Walcott was given the central striking role, and right from the off, the Arsenal man looked in the mood - getting in behind the Tottenham defence initially, and seeing a wonderful low effort tipped over by Hugo Lloris, before dropping off and picking up the ball in space after seeing the Tottenham defence drop off afraid of the pace of Walcott and Serge Gnabry, who was his usual I-have-no-fear-I-will-run-at-anyone self.
While Tottenham had plenty of possession, the chances pretty much all fell to Arsenal, with the away side only really creating one clear-cut opportunity, albeit a that-should-have-been-nestling-in-the-back-of-the-net one.
Eriksen, off an initial pass from Mousa Dembele -- whose primary role in the game was to nip at Jack Wilshere and ensure the Arsenal midfielder would not be the orchestrator extraordinaire -- fired a shot at the near post, which Lukasz Fabianski did really well to deflect wide.
It was all Arsenal in terms of chances after that really, as Santi Cazorla fired just wide after a sweet exchange of passes with Gnabry, while the young German himself fired high, following a blink-and-you-miss shift of his feet and strike.
Walcott came close a couple more times, with Arsenal looking increasingly dangerous as Wilshere, after a slow and frustrating start, grew into the game, while Tomas Rosicky was his usual "Little Mozart" self.
Wilshere's battle with the Tottenham midfielder, and basically the entire team, was quite fascinating, with the I-live-and-die-for-Arsenal-man having plenty of verbals with I'm-Wilshere's-shadow-for-today Dembele, while every other Tottenham player was clearly given the instruction to rattle the 22-year-old in every opportunity.
After being rattled initially, though, Wilshere, understanding the situation, took it in his stride, the cockiness and cheeky grin growing wider simultaneously with Tottenham's frustration soon after Arsenal's opening goal in the 31st minute.
It was another lightning attack, with Gnabry, also dropping off with Spurs' defence wary of holding a high line, receiving the ball before turning and finding a nice through ball to Cazorla on the left-inside channel. The Spaniard, who had curled one just wide a little earlier, made no mistake this time, smashing a you-touch-that-and-you-risk-breaking-your-hand strike across the goal and into the back of the net.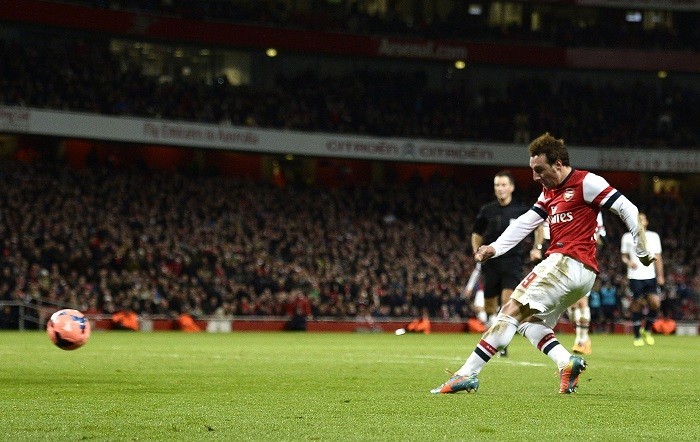 Tottenham were struggling to create any real chances really, with former Gunner Emmanuel Adebayor, much to the Arsenal fans' delight, very much in the periphery and the needless foul right on the stroke of halftime on Bacary Sagna pretty much summing up his first half performance.
Spurs showed plenty of endeavour going forward in the second half, but this Arsenal side have Ironman like steel in defence, and the impregnable red wall was not to be breached early on in the second 45.
With Spurs now going back to a high line, after being caught out backing off, Walcott nearly nipped in behind the defence on a couple of occasions, before fashioning a chance off a through ball from can't-believe-he's-only-18 Gnabry, which went just wide off a tight angle.
Spurs created a couple of if-only chances themselves, with Adebayor seeing that headline-grabbing goal within touching distance, only to lose his footing at the worst possible moment while winding up for a left-footed strike inside the box.
It was the-bragging-rights-in-North-London-are-ours time for Arsenal on 62 minutes as Rosicky robbed the ball off I-think-I-will-dilly-and-dally-a-little Danny Rose -- the man who announced himself on the English stage with a corker of a goal against Arsenal not too long ago -- before running full tilt and scooping the ball home in glorious style.
Arsenal, after making three substitutions, which also saw the return of Mesut Ozil from a slight injury layoff, had to play the final ten minutes with yes-I-can-play-as-a-central-striker Walcott having to be stretchered off with a knee injury, but not before he reminded the Spurs fans, who vented while the Arsenal forward was getting treatment, of the scoreline. The Gunners did that comfortably enough -Ozil actually coming closest in the final moments, forcing a one-handed save at full stretch from Lloris.
An outstanding result for Arsenal, and the perfect manner in which to banish the demons from last year's Blackburn loss.
Other results: Aston Villa 1-2 Sheffield United; Barnsley 1-2 Coventry City; Bolton Wanderers 2-1 Blackpool; Brighton and Hove Albion 1-0 Reading; Bristol City 1-1 Watford; Doncaster Rovers 2-3 Stevenage Football Club; Everton 4-0 Queens Park Rangers; Grimsby Town 2-3 Huddersfield Town; Ipswich Town 1-1 Preston North End; Kidderminster Harriers 0-0 Peterborough United; Macclesfield Town 1-1 Sheffield Wednesday; Middlesbrough 0-2 Hull City; Newcastle United 1-2 Cardiff City; Norwich City 1-1 Fulham; Rochdale 2-0 Leeds United; Southampton 4-3 Burnley; Southend United 4-1 Millwall; Stoke City 2-1 Leicester City; West Bromwich Albion 0-2 Crystal Palace; Wigan Athletic 3-3 Milton Keynes Dons; Yeovil Town 4-0 Leyton Orient; Blackburn Rovers 1-1 Manchester City.