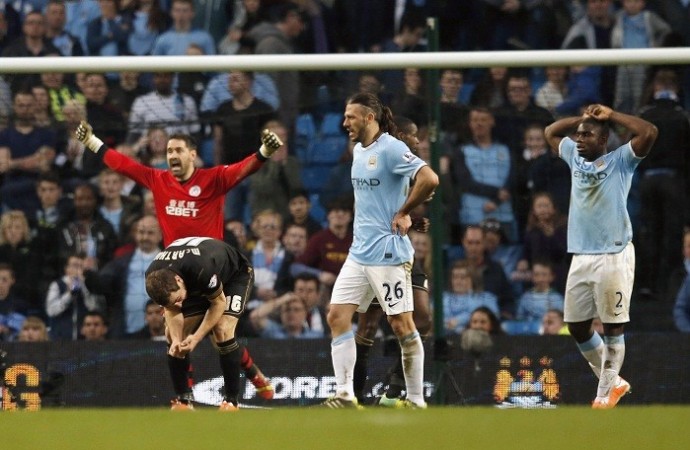 Manuel Pellegrini is not someone who criticises his players too often, but after witnessing a lacklustre performance from his team, which saw Manchester City knocked out of the FA Cup by Championship side and title holders Wigan at the Etihad on Sunday, the manager was left with little choice.
"I think it's the worst first half we've had in the year because we didn't have the pace to play against a team that is in a good moment," Pellegrini said.
"They won five games in a row, so we knew before the match we are going to play a difficult team, maybe we thought that was not going to be so difficult and when we react it was too late."
The reaction only came well into the second half, after City had gone 2-0 down courtesy goals from Jordi Gomez and James Perch; and when Samir Nasri did reduce the scoreline to 2-1, they found a Wigan backline refusing to let the ball through one further time.
"I think that we had two games in the same one -- one from the first minute until the 46th when they scored the second goal and then we reacted too late," added Pellegrini, whose side won their first title of the season by beating Sunderland in the League Cup final last weekend.
"We gave Wigan 45 minutes when we were too slow and they took advantage. It was a special week after winning the cup and all of international games but all of us have the same share of responsibility for this result.
"We finished one trophy and we won it, now we have to continue playing Champions League and Premier League -- we have a lot to fight for. We must try to win [the second leg] in Barcelona -- then we must try to reach the top of the [Premier League] table with our three games in hand."
For Wigan manager Uwe Rosler it was a momentous return to a club he holds close to his heart, and the German felt the victory was a well deserved one, dedicating the result to midfielder Ben Watson, who was the hero of Wigan's FA Cup final victory over City last season, but was missing due to a broken leg.
"I'm very happy for my players, for my staff and for Ben Watson because he was a big incentive," Rosler said after the 2-1 win on Sunday. "Last season was an unbelievable achievement to put Wigan on the football map but to follow that up this year, to be in the semifinal is equally strong from my players.
"I think teams show City, deservedly, a lot of respect. I feel if we sat back we had no chance. I felt our best chance was to attack and keep the ball.
"At some point you need luck when you want to win here but I feel that justice has been done -- for Nasri's goal, I think Lescott was clearly offside and interfering with our goalkeeper.
"I'm delighted with, not just the win, but the way we won."
Rosler also paid tribute to his players, particularly captain Emmerson Boyce, who was immense in defence throughout the 90 minutes, and made a stunning last-ditch challenge to deny Edin Dzeko an equaliser in the final moments.
"I just saw the block - unbelievable," Rosler added. "I'm a big believer that you need match-winners at both ends, not only in the attacking box, but in your own box. That tackle was a match-winning, decisive moment for us.
"Both tackles, the one Perchy had when he scored, and the one Emmerson Boyce had when he denied Dzeko the goal, that has shown the desire and the willpower we have shown. I can only take my hat off to the players.
"Emmerson is a symbol of that, not only today but since I've worked in the club."