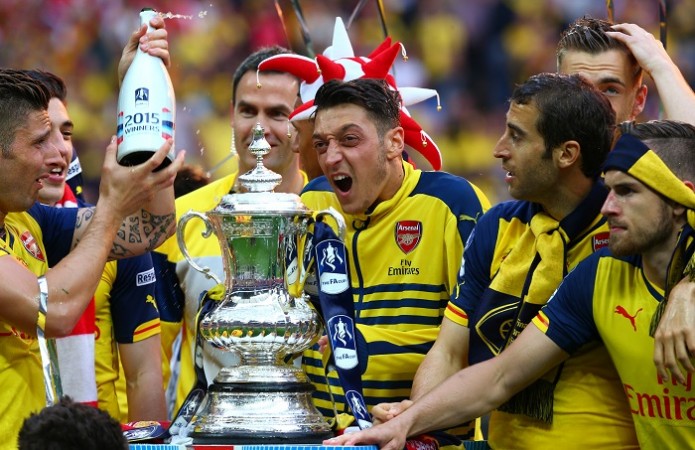 "Arsenal haven't played a good game at Wembley, even if they have got the proper results," it was said, heading into this FA Cup final against Aston Villa. Well, Arsenal certainly put that right on Saturday evening in London, putting on an attacking masterclass like only they can to shatter Villa's hopes of winning their first FA Cup title since 1957.
From second one, there was only one team in it, with Arsenal best in every department of the game to ensure they would make it two FA Cup titles in two years, and with it claim a record 12th crown of the famous-old trophy.
The only moments of trepidation in the final for Arsenal were when they failed to find the back of that net, despite dominating, but once Theo Walcott, preferred to Olivier Giroud up front, thumped a volley on 40 minutes, it was the impetus needed for the team from London to cut Villa apart, with Alexis Sanchez, via a superman strike, Per Mertesacker, via a header, and Giroud, via a now-trademark near-post flick, adding to the sweet-as-they-come-for-Arsene-Wenger 4-0 scoreline.
Thoughts of Aston Villa putting on the kind of performance that won them the semifinal against Liverpool were put to bed pretty quickly, as Arsenal ran rings around Villa, with Christian Benteke, the man tipped to cause Wenger's men the most trouble, and Jack Grealish, the man of the match of that semifinal, having days to forget.
Arsenal just did not allow Villa to play, and when Tim Sherwood's men tried to jostle their opponents off the ball, the likes of Santi Cazorla, Francis Coquelin, Aaron Ramsey and Mesut Ozil were just too good, pulling off those one-touch passes in tight spaces and opening the Villa defence up time and again.
It should have been 1-0 a lot earlier than the 40 minutes, with Shay Given pulling off a stunning save to deny Laurent Koscielny, while Walcott was denied a goal as well by a brilliant block on the goalline by Kieran Richardson.
Ramsey missed a couple of good chances, and just when those fears of "Oh man is it gonna be one of those days" was creeping amongst the Arsenal fans, the goal came.
It came via a brilliant tactical change as well, as Walcott popped up on the left, played through a nice ball for Nacho Monreal, who crossed for Sanchez, who had moved into the middle. Sanchez might be a small guy, but he has a tremendous leap and that leap allowed him to head the ball back into space, with Walcott coming onto it brilliantly to fire with his left foot past Given's right.
Villa's only thought for the remaining minutes of the half was to not concede the second killer goal, and they did that, but relief lasted only five minutes into the second half as Sanchez produced a moment of Chilean magic. Picking up the ball from well outside the penalty area on the right, after Walcott had lost the ball, Sanchez cut inside and applied a ripper of a shot from 30 yards that swerved way too much and was just too way powerful for Given to do be able to do anything about.
With the game at 2-0, Aston Villa had to go all out to try and get back in the game, but this Arsenal team are a lot solid defensively now, and the match was done and dusted just past the hour as Per Mertesacker head-shouldered a simple corner into the net to cue the singing, dancing, elating and a lot more other ings amongst the ecstatic Arsenal supporters end, with Giroud adding the gloss with a strike right at the end as Alex Oxlade-Chamberlain grabbed himself an assist as well on a glorious day for the North London side.