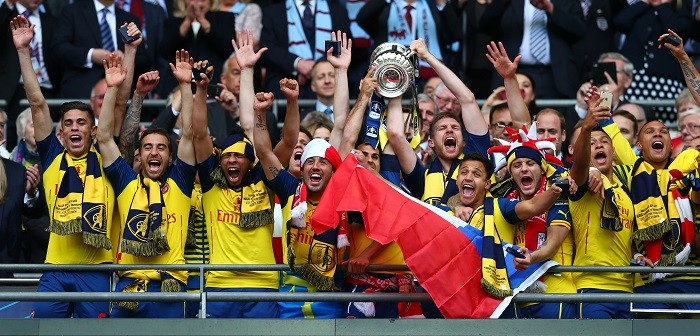 Arsenal had to show their powers of bouncebackability in the last FA Cup final, when they went down 2-0 to Hull City inside ten minutes, but this one on Saturday was a different class. Arsenal were in total control from the opening whistle, with the final 4-0 scoreline flattering Aston Villa, if anything, because it could have been a lot, lot worse.
Theo Walcott, Alexis Sanchez, Per Mertesacker and Olivier Giroud all got their names on the scoresheet, with the first two strikes absolute peaches, while the other two were typical for the respective scorers.
Any chance of a Hull-like start for Aston Villa was nipped in the bud by Arsenal, who were way too good on the ball, and even better off it. Villa just were not allowed to do anything worthwhile the little time they did have possession, with Santi Cazorla and Francis Coquelin dictating the match from central midfield.
This was Cazorla at his best, showing just how well he has grown into the deeper midfield role. Cazorla was the conductor of the Arsenal orchestra in the FA Cup final, and it was the kind of orchestra worthy of a long, long standing ovation.
The first of those highlights came in the 40th minute when Theo Walcott lashed in an absolute smasher into the back of the net, that too with his left foot, after Alexis Sanchez had shown his high jumping powers, winning a header.
Sanchez would then make it 2-0 early in the second half with a goal of the season contender, using that ridiculous right boot of his to power the ball past Shay Given, who could do nothing as the ball took a wicked swerve towards the end as well.
With the game at 2-0, Arsenal were in control, and then some, and Per Mertesacker added to Aston Villa's misery, guiding a free header off a corner after Christian Benteke had left him all alone.
The game was won at 3-0, and that allowed Arsene Wenger to make the changes to his liking, bringing on Olivier Giroud, Jack Wilshere and Alex Oxlade-Chamberlain, and the three of them combined for the icing-on-the-cake goal.
Wilshere, on the right, passed the ball to Oxlade-Chamberlain, who was given enough time to pick out a simple pass for Giroud to apply his trademark flick at the near post.
The win gave Arsenal their 12th FA Cup title, a record, and their second straight, while also making Wenger the first manager since the post-war era to win six FA Cup medals.